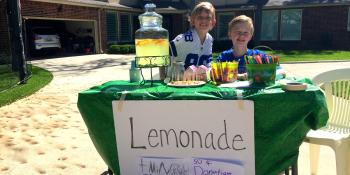 5 amazing kids who make a difference
Helping families have a decent place to call home takes every one of us. Children understand this. Hear from some kids who are setting up lemonade stands, giving away their birthday money, emptying their piggybanks and finding other ways to contribute so other kids can have good homes, too.
J.Z. Moehlenbrock
In J.Z.'s home, the children ask their friends for charitable donations instead of birthday presents. The kids already get plenty of gifts from relatives, their parents say, and giving to a charity teaches compassion for those not as fortunate and an understanding that everyone can make a difference.
For his 10th birthday, J.Z. decided to support his local Habitat, Fort Hood Area Habitat for Humanity in Killeen, Texas. He made his selection after learning that his hero, Clemson University quarterback Deshaun Watson, grew up in a Habitat house and builds homes with his fellow Tigers for other families. J.Z. wanted to build with Habitat, too, and was pretty unhappy to learn that he isn't old enough to work on a construction site.
However, on his birthday, J.Z. handed Fort Hood Habitat $70 and was thrilled to discover that it was enough money to cover two windows in a new home. After posting the donation on Facebook, Fort Hood Habitat watched J.Z.'s donation grow to $138. "It felt great and makes you feel better about yourself," J.Z. says. "I had such a boost of confidence after that."
That would have been payoff enough. Fort Hood Habitat helped arrange a tour of Clemson (J.Z.'s dad went there), and J.Z. got to meet Watson in person. "My jaw dropped to the floor," J.Z. says. Watson's teammates also high-fived J.Z. for his efforts.
J.Z. wants to continue finding ways to help Habitat. He recently brought lunch to the volunteers on a build site. "Habitat helps our community," he says. "It would be good if other kids got involved. But that is just my opinion."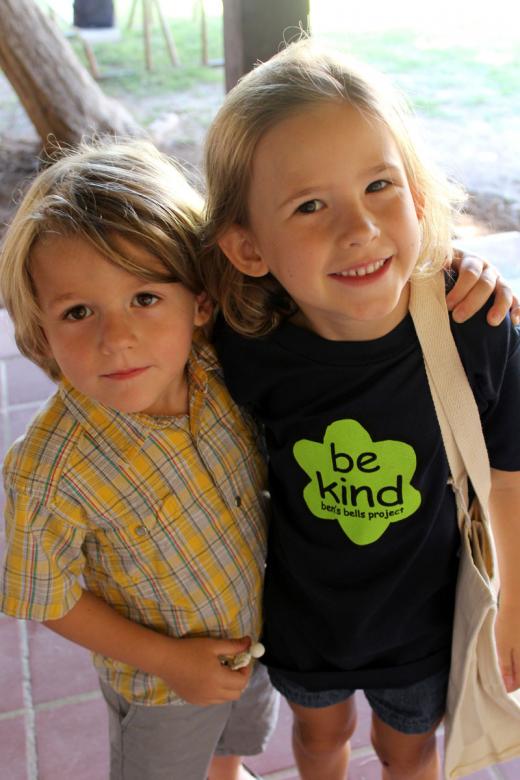 Delilah Schoonover
"All kids should have a home like me."
That is what Delilah thinks. And that's why the 6-year-old gathered quarters all summer long, then donated $150 in coins to Habitat Tucson.
That action earned Delilah special recognition from another nonprofit that promotes kindness and community. What really makes Delilah happy is how she felt when she donated those quarters.
She hopes to help build a Habitat house some day. For now, she wants to inspire other children to do their part. "All kids should help people without a home."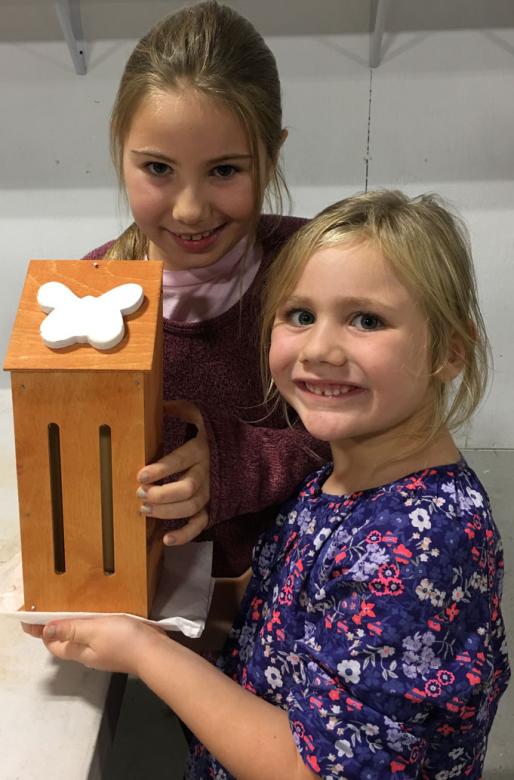 Sarah Johnson
Sarah is way too young to work on a Habitat house, but she is old enough to build a butterfly box for a family who will be moving into a Habitat home. And that's what she did at a workshop called Build It Brighter, sponsored by Habitat of Suffolk County.
Eight-year-old Sarah is very pleased at how her box turned out. "It is pretty and sturdy," she says.
The workshop's purpose is to introduce children to Habitat's mission and to let them know how great it feels to do something for someone else and give back to the community.
How did Sarah feel to learn that there are other kids who don't have a good house to live in? "I was pretty surprised," she says. "I felt happy that I have a house."
Sarah doesn't know the Habitat family who will be getting her butterfly box. No matter. Just thinking about them receiving her gift, she says, makes her "EXCITED!"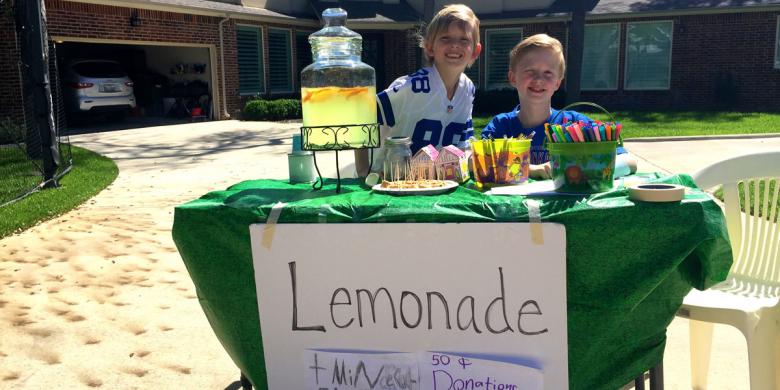 Wyatt and Owen Hanson
"Almost $200 buckaroos."
That's how much a happy and proud 8-year-old Owen raised selling lemonade, along with his happy and proud 9-year-old brother, Wyatt.
The Dallas, Texas, boys set up the stand after learning that their church had completed 100 houses partnering with Habitat families and has plans to build 200 more. They thought about the kids who don't have a good home. "Wow, they must be sad," Owen says. Thinking about those kids makes his brother sad, too. And something else. "Appreciative that I have a house," Wyatt says.
The sign on the lemonade stand read "50 cents," but most patrons were generous tippers when they learned where the money was going. The boys asked their parents to post a picture of the stand on social media and received even more donations, including one from their aunt in California.
Wyatt and Owen were thrilled to learn that the "almost 200 buckaroos" was enough to cover a front door and some windows on a Habitat home. And the boys want to continue to raise even more money, maybe selling even more lemonade. They hope to inspire other kids to do their part to help Habitat families, even if it is just contributing $1, so that even more kids can have good homes. "I want to make other kids feel happy by giving," Wyatt says.
Inspired by J.Z., Delilah, Sarah, Wyatt and Owen? Find out how you can get involved with Habitat or give a generous gift today!
Subscribe to our monthly newsletter
Get the latest Habitat news, volunteer opportunities, and more ways to get involved.