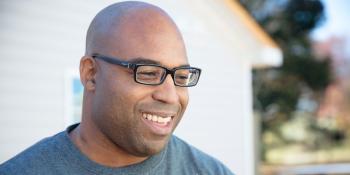 A Habitat house leads to personal successes
The smell of fresh paint always takes Boris Henderson back. Back to the day he walked through the door of his family's new Habitat house for the first time.
"I was 11 years old," Henderson says. On this sunny day, he is volunteering on a Habitat build site, rolling the walls of a new home that will give someone else's family the chance of a better life. "Just like this house, I remember the smell of the paint. The new carpet. Everything clean and orderly. There is no doubt in my mind that day was the turning point in my life."
After attending college and business school, Henderson spent 13 years at Wells Fargo, then founded a consulting company and now serves as chief financial officer of a real estate services business. He also chairs the board of Habitat for Humanity Charlotte in North Carolina.
Without that Habitat house, Henderson says, his life likely would have turned out very differently. For his first 8 years, he lived in a house with no indoor plumbing and later moved to one of Charlotte's most dangerous neighborhoods. "As a kid, how do you grow and develop into your full potential in that kind of environment?" Henderson asks.
The answer, he says, lies in his own childhood. After failing the first grade, he struggled through elementary school with Cs and Ds. "I am sure the people who knew me then would bet that I would not be where I am today," Henderson says.
The trajectory of Henderson's life changed after his family moved to Optimist Park, a neighborhood targeted for revitalization by Habitat Charlotte and site of one of the first Jimmy & Rosalynn Carter Work Projects.
"I remember feeling so proud of our house," Henderson says. "I remember the volunteers. I remember looking at the chandelier and thinking how beautiful it was. I had my own room for the first time. It is really hard to know who you are if you don't have your own personal space." In that space, Henderson discovered that he was a good student after all.
"I am able to look at what we do through the eyes of an 11-year-old kid — and as a man who benefited from Habitat."
— Boris Henderson
The benefits of the house extended beyond the family's big yard where Henderson learned to cut grass and played hoops with other Habitat kids who also have grown up to lead successful lives. "I am not a one-off," says Henderson, who attended an afterschool program at the church across the street and got involved at activities at the neighborhood YMCA, where he also serves on the board.
The connections he made in those programs led to a job in high school at a law firm. His mentors at the afterschool program and the law firm led Henderson to Davidson College, where he earned a B.A. in biology. It was there that Davidson alum and retired First Union CEO Ed Crutchfield opened Henderson's eyes to the possibility of a career in banking and Henderson went on to earn an MBA from Wake Forest University.
"I consider myself very, very lucky," Henderson says. "I have worked hard but the greater reality is that I have had tremendous people in my life who have selflessly poured themselves into me. I also believe in and have benefited from the extraordinary grace and power of God. For these reasons, I strongly believe that God put me on this path for a reason."
Henderson and his wife, Tiara, have been married almost 12 years and have a daughter, Blair, and a son, William. "They will remain grounded and have a deep concern for humanity," Henderson says, "because they have the benefit of having parents who deeply understand the importance of education, having a stable place to live, giving back and honoring the community."
Henderson also is bringing his experience to Habitat Charlotte. "We have an extraordinary board of people who have a deep knowledge of affordable housing, law, finance and other disciplines," he says. He has something extraordinary of his own to contribute. "I am able to look at what we do through the eyes of an 11-year-old kid," Henderson says, "and as a man who benefited from Habitat."