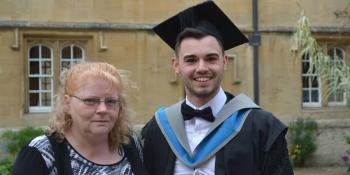 A home transforms a family's future
Jacob and his mother, Rita, a Habitat homeowner, at Oxford University in England.
Jacob is proud to have been selected as a Rhodes scholar to study at the University of Oxford in England, where he has earned one master's degree in criminology and criminal justice and is working on a second in global governance and diplomacy. However, the Indiana native says the proudest he has ever been is the night that his family slept in their new Habitat for Humanity of St. Joseph County home. Jacob shares his family's long and uncertain journey to that joyous night and his thoughts on what a stable home means for families.
Habitat for Humanity holds a special place in my and my family's hearts. When we moved into our new home, it marked the blissful realization of struggle, hard work, community support and grit.
It was also the 10th and final move my family made. The end of packing, unpacking, uprooting our lives and changing schools. Habitat for Humanity gave my family something meaningful: stability, safety and hope.
In the house my family lived in before our Habitat home, I remember waking up and being covered in red bumps. It wasn't the first time. They were bedbug bites. We couldn't afford an exterminator, so we tried bug bombing our house. It helped but didn't eliminate the problem.
There were holes in our walls where birds built nests. The foundation was weak. However, it was more space than we had in the trailer we had spent the last year and a half living in.
This bedbug incident was happening while I was preparing to enter my senior year of college. My family was close to finishing the Habitat for Humanity process. I was prepared to move. I often felt embarrassed about our housing situation. I rarely had friends over, and I tried to ensure that no one knew of our housing woes. It was an unfortunate reality.
We worked hard to make the house as presentable as possible by cleaning it often, trying to make home improvements and making the best of a bad situation. It was an issue that weighed heavily on my shoulders throughout high school and college. And I knew the burden weighed even heavier on my mother's shoulders.
My mom is relentlessly noble. Even though we were financially strained, my mother ensured that my siblings and I received everything we needed. My mother refused to let our limitations interfere with our capacity to help people who had even greater limitations. She deserved and had earned a stable home and everything it represented — and Habitat for Humanity delivered.
Because of my mom's hard work and support, I was the first person in my family to graduate high school and attend college. I remember when I opened a letter from the Community Foundation of St. Joseph County in February 2011. I was standing in my work uniform in the dining room and my mom was in her scrubs. I read that I had received a Lilly Endowment Inc. scholarship that paid the full tuition and fees for any college I was accepted to in Indiana.
My mom was so proud. I was, too. I felt like it was a ticket to stability. And in a way, it was. I attended Wabash College, and it became my first home. However, my family wasn't able to experience this. When I traveled back to the house for breaks, I felt that I was visiting a place that was just another stopping point on the path of bigger and better things for my family. We needed a home for all of us.
Roughly three and a half years after opening the Lilly letter, I received a Rhodes scholarship to study for two years at the University of Oxford. At that same time, my family was preparing to move into our Habitat for Humanity home. My family put our blood, sweat and tears into building other people's homes and our home. My mom had worked hard to eliminate her debt and learned many valuable skills from the financial literacy seminars.
After years of trying to thrive under the federal poverty line, we were preparing to take part in something that my mother fought for: a home for all of us. A home where she could have Christmas with her children and grandchildren for years to come. A home where birthdays, happy occasions and possible grieving could occur. A home where we could sleep comfortably. A home that represented something physical she could leave her children after she passed, a legacy.
Many people assume that earning a Rhodes scholarship was the proudest I have ever felt. To be fair, it was stunning, and I was very proud and humbled. I felt on top of the world. It gave me a platform to instigate the change I wanted to see in the world and to help kids like me and families like mine.
However, the night my entire family slept in our new home the week right before Christmas 2014 is the proudest I have felt. My mom was proud. She didn't stay up worrying about paying for a house that was falling apart. Our collective spirits improved. We were one step closer to realizing our version of the American dream.
My family is doing well. My sister and brother are both working full time. My youngest brother is in his freshman year in high school, and his grades have improved so much. My mother is busy personalizing the home and working as a home health aide.
As for me, Habitat for Humanity has taught me the importance and right of affordable, safe housing. I want to dedicate parts of my life and apply the skills I have developed to address a humanitarian right: the right to a home.