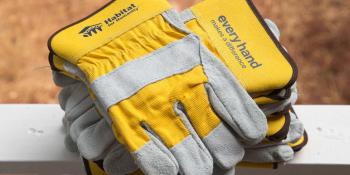 Accessible upgrades for aging homeowners
Through our Aging in Place program, Habitat aims to help older adults make the upgrades and repairs necessary to ensure their homes are accessible and safe to continue living in as they age. These stories exemplify our work to provide these accessible accommodations across the U.S.
Habitat for Humanity of NW Metro Atlanta
Linda loves her home in Powder Springs, Georgia. In the decades she's lived there, however, the circumstances of her life have shifted a bit.
When the 73-year-old started using a walker and rollator to help her get around every day, she found her home was no longer functional for her mobility aids. Her bathroom door was too narrow for her to access, and she also found herself dealing with multiple leaks and plumbing issues.
Overwhelmed at the idea of tackling necessary updates on her own, Linda was delighted to partner with Habitat NW Metro Atlanta. The affiliate identified ways to update Linda's home and made the improvements with the help of an Atlanta Regional Commission grant. Habitat helped make her bathroom mobility-friendly, with a walk-in shower and new floor. Linda's home also received new plumbing throughout. "This was an answer to my prayer requests from Almighty God," Linda says.
The upgrades will allow Linda to age safely in the home and community she loves. "The upgrades and much-needed repairs will enable me to stay in my home until I die," she says. "I am very happy with Habitat for Humanity."
Columbus Area Habitat for Humanity  
Alfred is an avid cook who loves to entertain friends and family in his home. But radiation therapy has left the 77-year-old so fatigued that he has trouble getting around his house on his own. Determined to heal from his medical treatments in the security of his own home, Alfred needed adjustments to make the house safe and accessible.
After partnering with Columbus Area Habitat for Humanity, Alfred now has sturdy new railings to help him get inside his house safely, as well as grab bars in the shower, a taller toilet and user-friendly faucet handles. He's especially excited about the no-trip, smooth-surface flooring in his dining room, which allows him to safely serve family and friends home-cooked meals. "It's 100% better," says Alfred, who shares that his well-being has improved tremendously since these much-needed updates. 
Habitat for Humanity of Palm Beach County        
At age 70, Linda hasn't slowed down. The resident of Florida's Palm Beach County supplements her social security income by selling homemade baked goods and babysitting her great granddaughter. However, she sustained serious injuries in an equestrian accident including the loss of an eye, and needed changes in her home to accommodate her needs during recovery and into the future.
Habitat for Humanity of Palm Beach County was able to help Linda make critical updates, including a low-lip, step-in shower, reinforced flooring and modified faucet handles. These improvements have helped Linda's healing process and her desire to safely remain in her home for the rest of her life.
Linda says she is "crying happy" at the results and loves to share her story of partnering with Habitat with anyone willing to listen. Up next on the active septuagenarian's list: volunteering in Habitat Palm Beach County's ReStore or office.