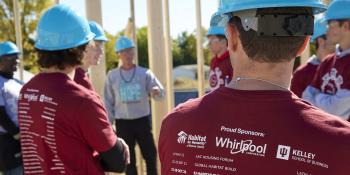 Achieving a brighter future through sustainable building
Whirlpool Corporation has actively partnered with Habitat for Humanity for 23 years, helping to broaden and improve the ways in which families around the world improve their housing and achieve financial stability.
During our long and fruitful relationship, Whirlpool has:
Provided 212,807 appliances like ranges and refrigerators for Habitat homes in the U.S., Canada, Europe, Africa, Asia, the Middle East and Latin America.

Served more than 971,000 people globally.

Donated $136 million toward our shared vision of a world where everyone has a decent place to live.
Deb O'Connor, Whirlpool Corporation's director of corporate reputation and community relations, shares why Whirlpool Corporation partners with Habitat and why the company passionately advocates for affordable housing.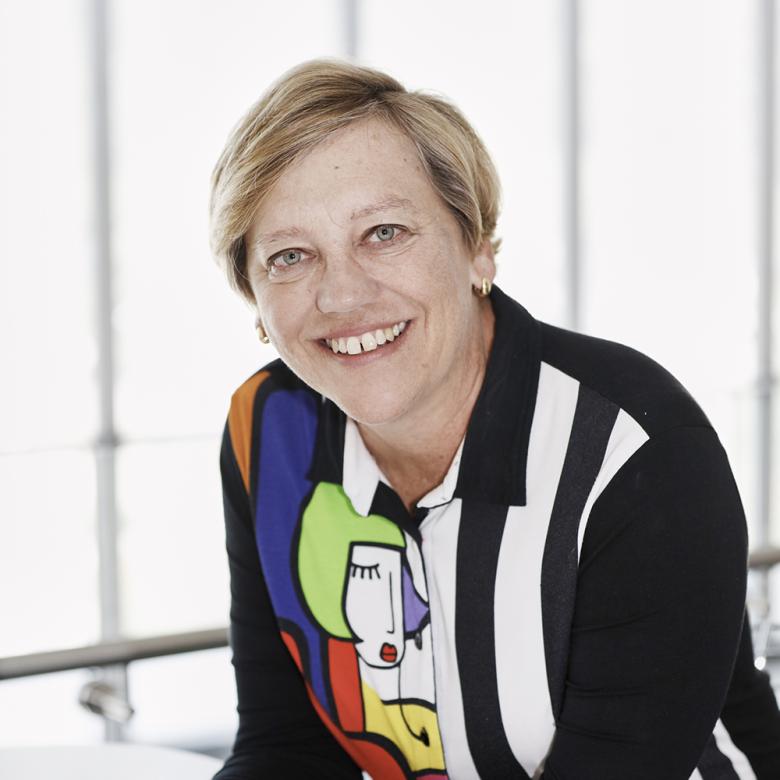 Why has Whirlpool Corporation made it a priority to partner with Habitat?
We believe that the four walls around us have the power to unlock immense opportunity for the homeowner and their family. It starts with decent and affordable housing – the foundation of a stable life and a bright future. That's why Whirlpool Corporation gives purposefully of our time, funds and products to the communities where we live and work.
Everything we do rolls up to our vision to be the best kitchen and laundry company in constant pursuit of improving life at home. This is especially true in our approach to social responsibility.
What is Habitat's BuildBetter with Whirlpool initiative?
The three-year BuildBetter with Whirlpool initiative expands upon Habitat's current efforts to help homeowners mitigate the impact of climate change with more energy-efficient and resilient homes. The purpose of the initiative is to continue to promote energy-resilient, hazard-resilient and climate-resilient housing at Habitat affiliates across the U.S., leaning on lessons learned over the course of more than a decade.
The three-phase initiative began in 2021 and includes research and collaboration; a strategic pilot of proven, successful tactics in target markets; and ultimately resources that can be expanded upon and immediately implemented across the U.S. By working with Habitat's research and measurement team, we can evaluate how homeowners are living in the homes, which will inform changes that can be made in the future so that homes are designed that are good for the environment and for the homebuyer's specific needs.
Habitat homes built through this initiative are designed to have a 15% greater overall energy efficiency compared to local code minimums. They're also built stronger to better withstand increasing severe weather events and changing climate conditions, and the homes produce less in operational carbon emissions.
The homes are built using regionally based, specific methods and materials to meet or exceed regional and national verification program requirements, which can include increased insulation and air sealing, higher efficiency heating and cooling equipment, fire-resilient materials, and fixtures that reduce water consumption. In some markets, homes might feature a safe room that meets or exceeds FEMA requirements, offering reinforced shelter in a high-wind event.
How else does Whirlpool Corporation work with Habitat around the world?
Whirlpool Corporation supports Habitat's work in Poland, including Habitat Poland's expansion of its Warsaw social rental program in response to the war in Ukraine. Through the program, Habitat Poland acts as a mediating agent, leasing units and then renting them at affordable rates to tenants who can't afford free-market rates. The program is being tailored for refugees from Ukraine, who will need a larger subsidy at the outset as they look for jobs and become more familiar with the community. Whirlpool Corporation donated appliances that will be used in the rental units. Also, in July 2022, Whirlpool Corporation employees gathered in Gliwice, Poland, to help renovate homes that will be part of the social rental program.
How and why has Whirlpool Corporation advocated for decent housing?
Through Cost of Home, Habitat's U.S. advocacy campaign, we're informing and educating Whirlpool Corporation employees about policy solutions for home affordability, which can be a tool to recover from COVID-19 and to advance racial equity.
We also support Habitat's global housing forums and really value how they bring together experts and housing advocates from a wide variety of sectors to connect and collaborate around practical solutions for increasing access to affordable housing.
During these forums, Habitat announces Innovation Awards winners, which celebrate global innovators in the housing sector. In 2021, we were proud to sponsor the awards' inspirational practices category and help shine the spotlight on public and public-private partnerships that are actively increasing access to decent and affordable housing for those who need it most.
At Whirlpool Corporation, we always seek to identify new ways to demonstrate our commitment to our goal of making life in our homes, our communities and our operations better today and in the future. Our partnership with Habitat helps us demonstrate environmental and social responsibility through the life-changing work that we help make possible.