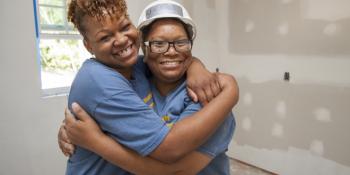 AmeriCorps Build-a-Thon opens doors
Soon-to-be homeowner Frankie Carr stops by to see the progress on Jackie Jones' new home during the 2014 AmeriCorps Build-a-Thon. (Habitat for Humanity International/Jason Asteros)
Annual event showcases the importance of service and the transformative power of a decent house
Jackie Jones, a proud grandmother of seven, has been a custodian at Heritage High School for more than seven years. Iris Hall, a mother of six, has a medical condition and survives now on disability payments.
Both have worked hard and lived frugally for years, and now, both have achieved their dreams of owning a home.
"I'm 50 years old, and I'm buying a house," Hall says, as her eyes fill with tears. "It's a blessing. It just is."
Hall raised six children in rental properties and had little hope of qualifying for a home of her own until she partnered with Habitat for Humanity of Wake County. Soon, she and her youngest daughter, 15-year-old Mariah, will move into a house built from start to near-finish during the AmeriCorps Build-a-Thon.
At this year's event in Wake Forest, one of three host locations, more than 150 AmeriCorps members and alumni built five new houses and did exterior repairs on eight others as part of broader, ongoing neighborhood revitalization work that has engaged a wide variety of community partners.
Hall struggles to contain her emotions as she describes how it feels to be a homeowner.
"It's yours! You've got something that's yours," she says. "That is the difference. And when I'm gone, this house is going to be my daughter's. That's the difference, and that matters."
'This is home'
Frankie Carr, a hairstylist, has two daughters: 15-year-old Asia Brannen and 12-year-old Zoe Brannen. They've lived in public housing as Carr has worked and saved enough to qualify for a Habitat house in Raleigh's Maybrook community, about a half-hour's drive from the Build-a-Thon event.
"I had to be a part of this," Carr says. "I felt called to be a part of this, to see so many people coming out to help achieve the American dream."
Construction will start on Carr's house sometime in the fall, so she has been busy earning her "sweat equity" — hundreds of hours of hands-on volunteering required of every Habitat homeowner partner. The process of becoming a homeowner has had an empowering effect already, inspiring her to further her career by getting a license so she can teach cosmetology.
As part of her sweat-equity work, Carr has logged a lot of hours in Habitat Wake County's ReStore, which sells new and used building materials and furniture to the public at discounted prices.
Jackie Johnson often works with Carr at the ReStore. This week, Johnson has painted, installed vinyl siding, hammered and more at the house she will move in to sometime in June.
Johnson has lived in Wake Forest all of her life, but the new house gives her a brand new sense of where she belongs.
"Wake Forest is home," she says. She pauses for a minute and looks around the neatly primed walls of her new living room. "No, this is home. This is home."
Subscribe to our monthly newsletter
Get the latest Habitat news, volunteer opportunities, DIY tips and more ways to get involved.