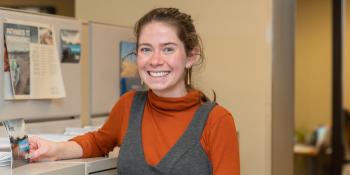 AmeriCorps profile: Anna Noonan
Anna Noonan was excited to put her new college degree in global studies to work. The problem, she soon discovered, was finding a job that would use the skills and knowledge she had acquired.
"I felt like I had a lot more to offer than what most of the posted entry-level jobs were asking for," Noonan recalls. "My college experience had prepared me well to take on responsibility."
After coming across a listing for an AmeriCorps position at Habitat for Humanity International, Noonan felt that she finally had found an outlet where she could both contribute and grow in a meaningful way. The description of the position alone left her feeling confident that she "would be getting so much experience and responsibility and given so much creativity and freedom."
So, after months of searching for her next chapter, Noonan joined Habitat AmeriCorps as a project development associate for the organization's disaster risk reduction and response department. Noonan's service year began just as the 2017 hurricane season, one of the most destructive and costliest on record, was ending. "I kind of got thrown into the fire," says Noonan. "It was a great way to learn while helping support those responses."
With her previous work experience largely focused in public health, Noonan soon recognized the inextricable link between that passion and her new job. "Disaster impacts everyone's health — from the physical to emotional to mental," she explains. "The long-term recovery work that Habitat is doing is invaluable."
In addition to assisting with emergencies as the need arose, Noonan's time was spent on her keystone project, Habitat Ready, a disaster preparedness resource library. It includes both online tools for individuals and in-person trainings for communities where Habitat works locally. Since their publishing in June 2018, these resources have accumulated almost 14,000 unique page views. Hundreds of users came from U.S. states like California, Georgia, Texas and Florida, and thousands came from countries such as the Philippines and India. 
The service project proved to be exactly the type of challenge that Noonan was looking for. "My department really allowed me to flourish," she says. "Having them put their trust in me and let me have a seat at the table, as if I was any other team member, was so rewarding. It's because of this support that I was able to accomplish what I did."
As her AmeriCorps year came to a close, Noonan realized she wasn't ready to leave Habitat. "The more that I've learned about housing and affordable housing," she says, "the more my passion has grown." Wanting to build on the work she accomplished as an AmeriCorps member, she applied for a full-time position in the disaster risk reduction and response department – and she got it. Her service year ended on a Friday and her first day was the following Monday.
Experience with AmeriCorps was fundamental in helping Noonan earn the spot. "Service is such a powerful way to give back to the communities that have helped you get to where you are now. It's also a way of exploring potential passions for yourself," she says. "I was able to translate my learnings directly from my AmeriCorps year to this new, bigger role. Now, I feel like I have just taken a step in the direction of a career that could take me places."