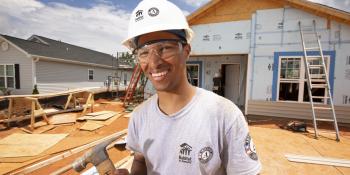 AmeriCorps profile: Jarrell Howell
Most days, Jarrell Howell is up before the sun. As an AmeriCorps construction crew leader with Habitat for Humanity Charlotte, the 29-year-old is integral to preparing build sites and setting up volunteers with the tools they need.
Howell also doesn't hesitate to jump in to do framing, roofing, carpentry, clean up — whatever it takes to turn cement, lumber and hardware into a Habitat home.
Whether he's running to the store for extra supplies or putting up drywall with homeowners, he's just happy to be of service. The days are long and arduous, he says. "But they're so very satisfying."
Howell always has been driven by service, specifically "selfless service," one of the seven U.S. Army core values instilled in him by his late father, a Vietnam War veteran, and his mother, a lifelong volunteer.
Selfless service is a value that directed Howell during his own military career, which took him to South Korea, Germany and Afghanistan and earned him several honors, including the Army Commendation Medal and the Army Achievement Medal.
It was his commitment to selfless service that also steered Howell in his educational pursuits as he studied history and national security to prepare for a career in public service. And now, it guides him in his yearlong AmeriCorps term as he helps communities in and around Charlotte build resilience through safe, affordable housing.
"Selfless service — the fundamental principle of serving your nation, your family, your community — was ingrained during my time in the military," he says. "But that sense of continual commitment to others has led me in all areas of my life."
For Howell, AmeriCorps became an outlet for the leadership skills he honed while serving his country overseas. "I have always been interested in international relations and national security, but AmeriCorps has opened up my eyes to the needs here at home," he says. "Basic housing helps reduce poverty and alleviate hunger — it's a chain reaction. And it's a change that I want to be a part of."
Howell helped create that kind of change in Raleigh, North Carolina, during the 2018 Habitat AmeriCorps Build-a-Thon, an annual event that brings together members from across the country for a week of building and bonding.
He worked alongside AmeriCorps members from New Orleans to Chicago to complete the exterior of three new homes. "Everyone jumped right into their job, whether it was shingling, sheathing or siding," Howell says. "It was a unique experience to work with all of them, to learn how they do things differently across the country, and to hear their stories."
Whether traveling or back in Charlotte, Howell loves that his work gets him in on the ground level to help communities realize their potential.
"Being in AmeriCorps, I can really get into neighborhoods that have been neglected due to developmental or racial inequality," he says. "It's been an eye-opening experience to see how much people are in need in these times, how hard they're willing to work, and how grateful they are for everything."
One of these people is Abdikadir, a future Habitat homeowner. A former interpreter for the U.S. military in Somalia, Abdikadir came to the U.S. looking to improve the lives of his five children, and he and Howell bonded over their military experiences.
Although he works full time, Abdikadir makes it a priority to attend every open volunteer day. He comes out not only to work (although Howell notes that he does plenty of that), but also to personally thank every volunteer who contributes to the construction of his family's future home. "It's amazing — his dedication and how genuinely thankful he is," Howell says.
AmeriCorps has been a great opportunity to meet people from different places and backgrounds, Howell says. "It's incredible seeing that we can all come together for a common cause to serve each other and our country," he says. "We're really helping to build sustainable futures and give people hope."