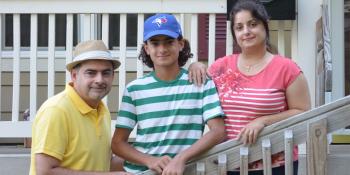 Asaad, Nagham and Bashar
Des Moines, Iowa
Asaad and his wife, Nagham, left Iraq in 2003 because of their son. "We wanted to make sure he grew up in a safe environment," says Asaad, who worked for the United Nations in Baghdad before the war. Today, the family lives in a Habitat home on a quiet street in Des Moines and Bashar, now 14, is a star student.
"He is doing super great," Asaad says. "He was great before we came to America. Living in a good environment here adds to him being even more successful."
The family spent several years in Jordan before immigrating to the United States. Once in Des Moines, some Iraqi families applying to partner with Habitat asked Asaad if he would help them translate. "I sat there and listened to these families and felt this was a good opportunity," he says. "I grabbed myself an application."
Asaad, who works as a payment processor for Citigroup, and Nagham, a clerk with the Principal Financial Group, qualified for an affordable mortgage with Des Moines Habitat. They completed their hundreds of sweat equity hours working in the Habitat ReStore and on various build sites.
"We had been living in an apartment on a busy street — the cars, the ambulances, the noise," Asaad says. "I remember the first night we moved into our house. It was so quiet."
Favorite things about his home are the yard and the basement, yes, the basement. "My friend calls it my 'man cave,'" he laughs. "Sometimes, when I am not feeling all right, I go there, and I am feeling all right."
Asaad also likes the feeling he gets from volunteering with Des Moines Habitat, interviewing prospective families. "Sometimes I attend the house dedications and take pictures," he says. "I do this because I feel I owe Habitat a lot. I worked my whole life to help others. Maybe that is just a part of me."