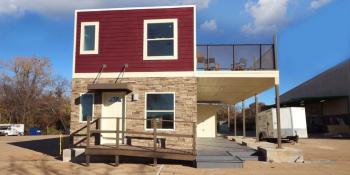 Building a brighter future through sustainability
When shoppers visit Habitat for Humanity of Collin County's ReStore in McKinney, Texas, they are greeted with an unusual sight – there's a house in the parking lot. The home was built using repurposed shipping containers and serves as a model of the 35 townhomes that will be built in the Cotton Groves, a new sustainable and eco-conscious community. According to Habitat Collin County, it will be one of the first affordable housing communities built with shipping containers in the U.S.
Anthony, a future Cotton Groves resident, volunteers at the community's model home as part of his sweat-equity hours. He welcomes visitors with a friendly hello and bright smile. Anthony loves sharing his joy about becoming a Habitat homeowner and answering questions about the development. "This environmentally friendly community that we're building out there, it's going to be beautiful," says Anthony, who has worked for nearly 18 years as a bus driver for the local school district. "McKinney is changing completely. I'm excited."
See the interior of the Cotton Groves model home:
Built to last
The Cotton Groves development is a collaborative effort led by Habitat Collin County, the City of McKinney and McKinney Community Development Corporation, as well as a host of other public and private organizations. "Our hope is that it will become a model for other areas in the United States to look at not only building more affordably, but more sustainably, and to provide more housing that's sustainable and maintenance-free," says Celeste Haiduk Cox, Habitat Collin County CEO.
The shipping containers being used as frames for the Cotton Groves townhomes are known as "one-trippers," having only been put into service once before being sold. Each home will consist of four shipping containers. Two containers will be welded together for the first floor and two more welded and stacked on top for the second floor. Habitat Collin County chose to work with the containers because the material was cost efficient and required less construction time.
The shipping containers are waterproof and resistant to high winds, and their original bamboo floors will be preserved. The finished homes will be painted with durable, marine-grade paint, and solar panels will be installed on their roofs to help lower monthly utility costs. "The maintenance will be minimal, and they're beautiful," says Celeste. "They look so cool; they're very modern. And homeowners are very excited about it. So it's a win-win."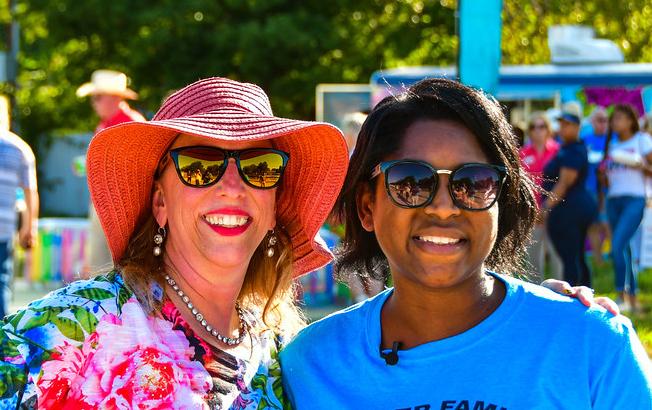 Working together for a better world
Building homes with shipping containers was uncharted territory for the affiliate, so Habitat Collin County worked closely with local officials to ensure the Cotton Groves community would become a reality. "It was an unusual project because it's not your typical residential development project," says Paul Grimes, McKinney's city manager. "We had to work with staff to update and adjust some of our land use requirements, some of our regulations, when it comes to residential housing stock." The Cotton Groves is located in an area designated as a neighborhood empowerment zone, which helped lower project costs by offsetting building permit fees.
"We're trying to be creative in all the different ways, and there's a number of different strategies or avenues and programs and tools that we can bring to bear to try to help with the affordable housing issue that we're seeing all around the country and certainly in our community," Paul says. "This project was for us an obvious one that could break the mold and look for a new and creative way for us to be able to bring good, safe, quality, affordable housing to our community."
Here comes the sun
Latonia has waited years for repairs to be made to her apartment. "But if it's not fixed by now, they're not going to fix it," says the mother of two, who works as an early childhood educator. Soon, she'll move into a townhome at the Cotton Groves where she will pay an affordable mortgage that is less than what she currently pays in rent.
Latonia can't wait to experience the convenience of parking her hybrid vehicle in her carport and being able to plug it in to an electrical outlet installed especially for charging cars. She also wants to tackle baking projects with her 21-year-old daughter, Anaiya, in their new kitchen, and the whole family, including her son, 16-year-old Jajuan, is looking forward to enjoying the second-story deck. "My daughter and I, we love to just be outside and soak up the sun," says Latonia. "And she's really into looking at the clouds and taking different photos of nature. But we're very interested — my son, my daughter and I — in sitting on our deck upstairs and being able to watch the planes land and take off since we'll be close to the airport."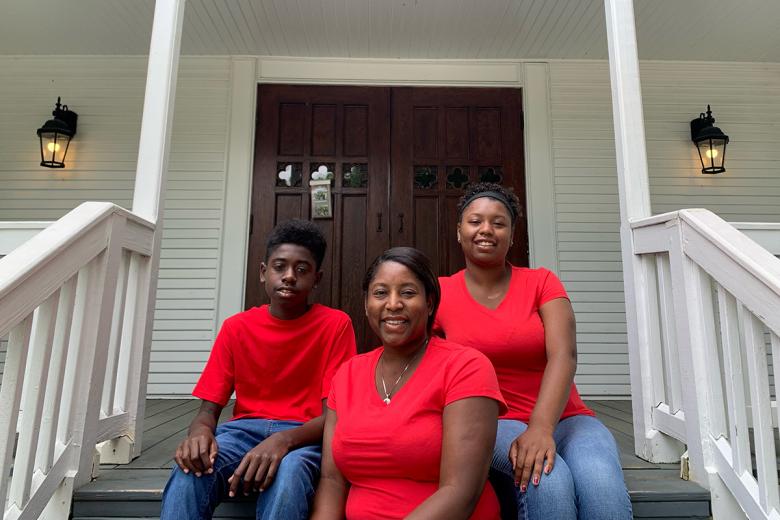 Thirty-four other families like Latonia's will move into the Cotton Groves community, which will also include an amenity center and playground. The amenity center will feature a computer lab to ensure residents have access to technology, and local organizations will host health clinics and an afterschool program in the center as well. Residents will also be able to gather at the amenity center for social opportunities, fitness classes, shopping at a mobile farmers market and more.
Latonia wants to use her skills as an educator to help out in the local community. "I just feel like there's things that I could offer in that community room for the people who live in my neighborhood and the surrounding neighborhoods," she says.
"That was our whole point when we did this," says Celeste. "We wanted to build a connected community."
Walk through the Cotton Groves with this Habitat Collin County video featuring a 3D rendering of the innovative future community. Learn more about Habitat's Cars for Homes, which provided funding for this work.