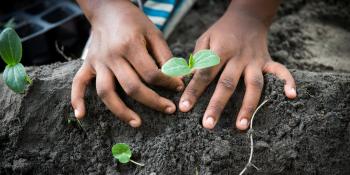 6 facts about Habitat's sustainability efforts
Home affordability and sustainable building go hand-in-hand. 
That's why Habitat makes sustainable building a priority around the world. From reducing utility bills through energy-efficient homes and renewable energy sources to cutting waste and construction costs with conscientious building practices, we're finding ways to optimize our homes to benefit families and the environment. 
Want a peek at how we're helping homeowners and our planet? Check out these six facts for a glimpse into Habitat's expansive sustainability work.

1. A plastic beverage bottle takes 450 years to break down in a landfill.
With our environment in mind, Habitat has found ways to help keep plastic out of landfills. Habitat Dominican Republic recently piloted a new construction process that uses building blocks made from recycled plastic. The blocks are strong enough to withstand earthquakes and simple enough for families to build or expand their own homes.

Renewable energy sources like solar panels can help slash greenhouse gas emissions. Habitat Lake County in Illinois is taking advantage of solar panels to both reduce our impact on the environment and cut utility costs for homeowners. They partnered with New Trier High School to install 14 solar panels on a home, which provide 50-75% of the home's energy needs.

At Habitat, we're thinking of ways to help families reduce their water consumption and save on bills. In Fort Lauderdale, Florida, Habitat Broward helps families save 15,000 gallons of water each year by working alongside homeowners to install low-flow toilets and showerheads.

4. A well-designed landscape can reduce an unshaded home's air conditioning costs by 15-50%.
When Habitat helps build a house, we're thinking about everything that goes into a home, including the yard. San Diego Habitat helps future residents conserve water and reduce heating/cooling costs by landscaping the homes they help build.

5. Passive homes, which are airtight and extremely well-insulated, use 90% less energy than a typical home.
When working alongside homeowners to build passive homes, Habitat Washington, D.C. uses energy-efficient materials such as 12-inch-thick exterior walls and triple-pane windows to help residents save on heating and cooling costs.

6. Our planet loses 18.7 million acres of forests annually, equivalent to 27 soccer fields every minute.
To help lessen the demand for timber and preserve our depleting forests, some builders have turned to bamboo – a low-cost, fast-growing and recyclable source for building materials. Habitat Nepal works to develop sustainable, affordable and disaster-resilient housing with communities in eastern Nepal – in part by using bamboo, which grows abundantly in this region, in combination with modern building materials and construction techniques.