Building homes – and bridges – with Habitat
Renad Al-Souqi talks about the difference between house and home, a distinction crystallized on her recent Global Village volunteer trip to Jordan.
The team was gathered for dinner, eating delicious Arabic food and drinking sweet hot tea, Renad remembers, when a Habitat staffer said: "The house is nothing but dry and cold walls. But the home — the home is love and warmth. You are not just here to build the walls of this house; you are also building the love and the warmth of this home."
Renad, an aspiring speech pathologist living in Saudi Arabia, says her work with Habitat has given her the opportunity to help transform the living conditions of neighborhoods and make families more stable and independent. She has benefited, too.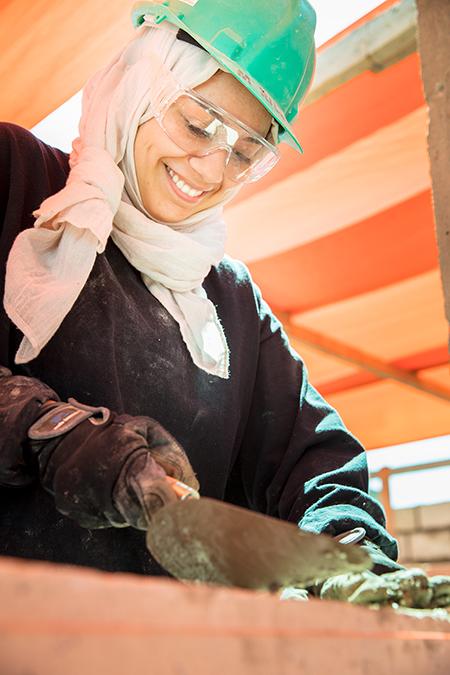 "My trips have allowed me to build deep and meaningful friendships with all kinds of people from different walks of life," Renad says. "I've learned a lot about different cultures, languages and cuisines. I discovered that being bilingual in Arabic and English is a very useful skill, and I really enjoyed translating for my team and the local community, which helped build bridges and friendships between us."
Renad first learned about Habitat in high school when some of her classmates were organizing a bake sale to raise money for a build in India. On that project, Renad was intimidated by all of the construction tools. "After a couple days of work, you really get into the swing of things, and it becomes easier — and fun," she says.
Next, Renad participated in Habitat's disaster response efforts in the Philippines in 2009 after heavy rainstorms and flooding hit the Palawan region. She and her team mixed cement and made cinderblocks from scratch. "It was very humbling to see the family cry from happiness when the keys to the house were handed over to them," Renad says, "and made me feel good to know my help impacted their lives for the better."
Renad is grateful for the friendship that she made with the young Jordanian couple and their extended family that would be living in the home she built with her Global Village team. "They were extremely friendly, grateful and amazed that we came from all over the world just to help them build their house," Renad says. "I love the work Habitat does and plan to volunteer again in the near future."
Subscribe to our monthly newsletter
Get the latest Habitat news, volunteer opportunities, DIY tips and more ways to get involved.