Can community engagement enhance civic responsibility?
How an alternative break can lead you to a transformational experience
Inspired by my involvement in my college's alternative break program and Habitat's Collegiate Challenge volunteer trips, I decided to move home after graduating to dedicate a year of service.
My year with the Hartford Area Habitat was a transformational experience full of personal growth and development. Serving as an AmeriCorps member with Habitat changed my entire perspective of service. It enhanced my sense of civic responsibility and allowed me to build competencies basic to democracy, the most important of which was working amongst diversity.
AmeriCorps allowed me to work with those who had different perspectives to address a common problem: eradicating substandard housing. It brought me from viewing community service as charity to viewing community service as true solidarity. The significance of Habitat's mission — "to bring people together to build homes, communities and hope" — is that it implies people work alongside each other. This lens of engagement was my introduction to community-based work through a social justice-oriented paradigm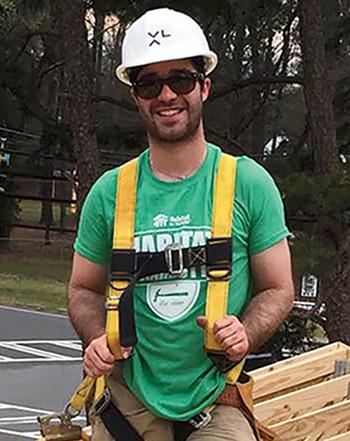 Currently, I serve as the associate director of the College of Charleston's Center for Civic Engagement where I oversee the college's community service programs — programs much like the ones that got me involved with Habitat when I was in college.
Through the work that I do in the center, I share with my students the lessons that I learned from my time as an AmeriCorps member working with Habitat for Humanity. I highlight the importance of serving with rather than for others. I try to teach my students that we are all in this together with something to bring and something to learn.
In February, when I heard that the current administration proposed to cut funding for the Corporation for National and Community Service, I was speechless. Now, more than ever, we need AmeriCorps.
According to the 2012 report "A Crucible Moment: College Learning & Democracy's Future," U.S. civic health is on a decline. The report provided 10 indicators of anemic U.S. civic health to illustrate the severity of the problem. Two of those indicators follow. The U.S. ranked 139th in voter participation of 172 world democracies. In 2009 and 2010, only 10 percent of U.S. citizens contacted a public official.
Although those indicators are alarming, the report indicated that civic learning could be gained through community service. As such, we need AmeriCorps. We need programs that build bridges and bring people together.
Australian activist and educator Lilla Watson said, "If you have come to help me, you are wasting your time. If you have come because your liberation is bound up with mine, then let us work together."
When service is viewed as charity, it creates a hierarchy that places the volunteer in a position where they might blame those they are serving as having deficits, thus reinforcing stereotypes and prejudices. But when service is viewed as true solidarity, volunteers are less likely to blame those they are serving for their woes — and more likely to see that the deficits exist within social systems, not the individuals they are serving.
— Christopher Ciarcia, Habitat AmeriCorps alum