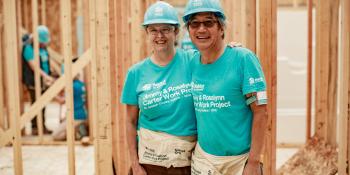 Carters and Kims come full-circle with Habitat
This is a story about a circle.
This circle includes one couple you have probably heard of, Jimmy and Rosalynn Carter, and another, Peter and Kathryn Kim, you likely haven't. But each has dedicated much of their lives to helping others. For the Carters, that's been through policy and philanthropy. For the Kims, through scientific learning and discovery.
In the late 1980s, our circle began when Peter Kim landed a prestigious fellowship with Whitehead Institute for Biomedical Research, a nonprofit located in Cambridge, Massachusetts, dedicated to improving human health through basic biomedical research. The three-year program nurtures young scientists, empowering them to become leaders in their respective fields. For Peter, his fields would be drug discovery and vaccine development.
During this same period, the Carters were working with the private sector to make scientific strides of their own. Through a partnership between The Carter Center and Merck, a U.S. pharmaceutical company, the couple was laying the groundwork to begin ending onchocerciasis, also known as river blindness, a parasitic infection most common in Africa and Latin America that often leads to permanent blindness.
The two organizations have made significant progress toward their goal of eliminating the debilitating disease, with Merck committed to producing and donating the groundbreaking drug Mectizan for as long as needed and the Carter Center managing its education and distribution in rural regions lacking formal health care infrastructure. The program, still active today, reaches more than 250 million people annually — with four countries receiving WHO verification that the disease has been eradicated completely. Remember Merck; our circle will bring us back to this company.
In 1991, while the Carters were building Habitat homes in Miami's Liberty City neighborhood alongside hundreds of volunteers during the 8th annual Jimmy & Rosalynn Carter Work Project, Kathryn Kim was just starting her Habitat journey. It started with a simple $10 donation.
As our circle continued to turn, Kathryn listened intently as Millard Fuller, founder of Habitat for Humanity, shared his message of "the theology of the hammer" at her church in Lexington, Massachusetts, in 1998. It was a life-changing moment.
"That really cemented for me what a great organization it was," she says, recalling the sermon. Since then, year after year, Kathryn and Peter have built their support with regular gifts to help expand Habitat's work around the world.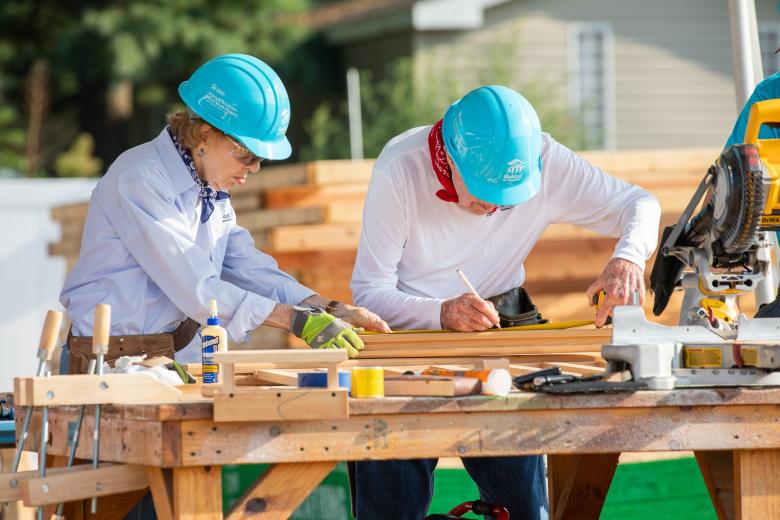 In 2003, our circle completes another arc with Peter's promotion to the presidency of Merck Research Laboratories — an arm of the company so dedicated to the Carters' work to eliminate river blindness.
Here is where the circle solidifies. In his new role, Peter oversaw all of Merck's drug and vaccine research and development activities. It was during this time — 12 years before President Carter was diagnosed with cancer — that Peter would oversee the development of the drug that would end up saving the president's life.
After announcing his cancer in August 2015, President Carter began taking a combination of radiation and immunotherapy. Pembrolizumab, a humanized antibody used in cancer immunotherapy and developed at Merck, helps restore immune system function. While the president's metastatic melanoma was being treated locally with radiation, which kills cancer cells by damaging their DNA, his immune system was being ramped up so that his body could attack the disease systemically.
Three months later, in December 2015, President Carter announced his cancer was gone.
"The drug doesn't work for everybody," notes Peter. "But, particularly for people with melanoma, it did work. And remarkably, in some of these people it actually completely cleared them of the disease — which was virtually unheard of in cancer. Fortunately, President Carter was one of those people."
Thanks to this, Carter has been able to carry on his lifelong legacy of peace- and change-making, using his renewed health and spirit to continue to bring justice and healing to others — and to build.
This is why President and Mrs. Carter traveled to Mishawaka, Indiana, in 2018 — for the 35th iteration of the Jimmy & Rosalynn Carter Work Project. As they painted shelving and constructed a fence, in a full-circle moment, the Carters were joined on their job site by none other than Kathryn and Peter Kim. Together, the couples not only were building a house, but also — as they have been much of their lives even without knowing — they were building each other up.
"One of the real thrills of the week was to watch President Carter talk and inspire everybody," says Peter — a simple act made possible by Peter's own pioneering work in the sciences. It's simple in the same way that Kathryn's donations have helped give a hand up to homeowners like Laura, whose house they worked on.
Inspired by the graciousness that volunteers like Kathryn and Peter showed her, Laura has pledged to pay it forward by giving her time to another family who needs a hand up.
Just like that, abounding with love, the circle grows.