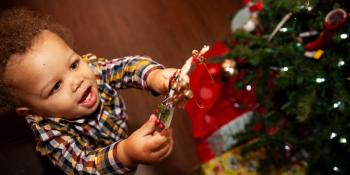 Celebrating a joyous first Christmas in a Habitat home
Even when her Habitat home was only stacks of lumber and bins of nails, Merissa already was dreaming of holidays and of a place where she could celebrate them with her children.
"We can do stuff for their birthday, for Easter, for Christmas," she said hopefully, as building began. It means everything, she went on, to "have this space, knowing that this is going to be our home."
It was this simple dream of a Christmas at home — their home — that pushed Merissa on the hard days and inspired her to go beyond her required sweat equity hours to make that dream come true.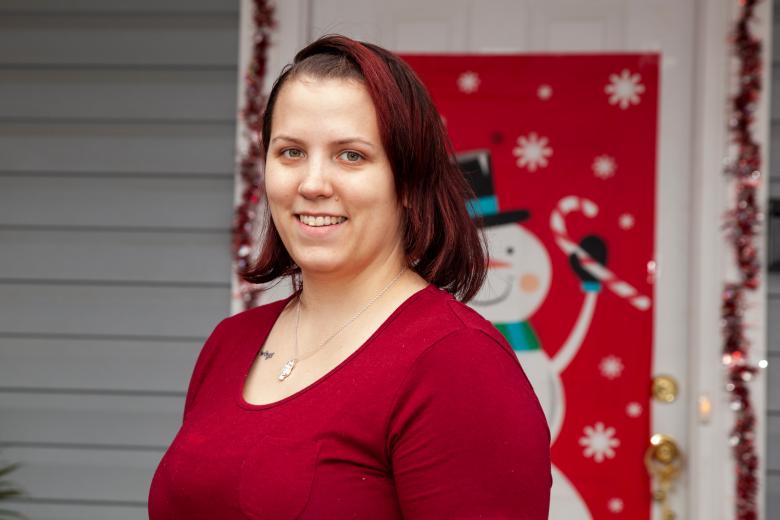 This past July, after 17 months and 308 sweat equity hours, Merissa closed on her Habitat Charlotte house, a charming one-story ranch with red shutters. It was her family's own Christmas in July.
"Coming home to your own house, rather than to someone else's?" she says. "I don't even know how to describe it. It's just a wonderful feeling. This is ours. We have so many memories to be made — and all the memories will be of this one place."
As her boys roughhouse in the living room, a room adorned with glittering Christmas decorations and family photos, Merissa laughs. "At least we don't have to worry about neighbors hearing them anymore!" she says. Apartment living wasn't always conducive to little ones —  or to Merissa, who moved her family four times in four years in search of an affordable and appropriate place.
Her Habitat mortgage is less than her previous rent, allowing her to invest in her family's future in a way that was out of reach before. With three times the space of their last apartment, each of the boys has personal space to play, to explore their own interests and, as Merissa says, "to be who they are."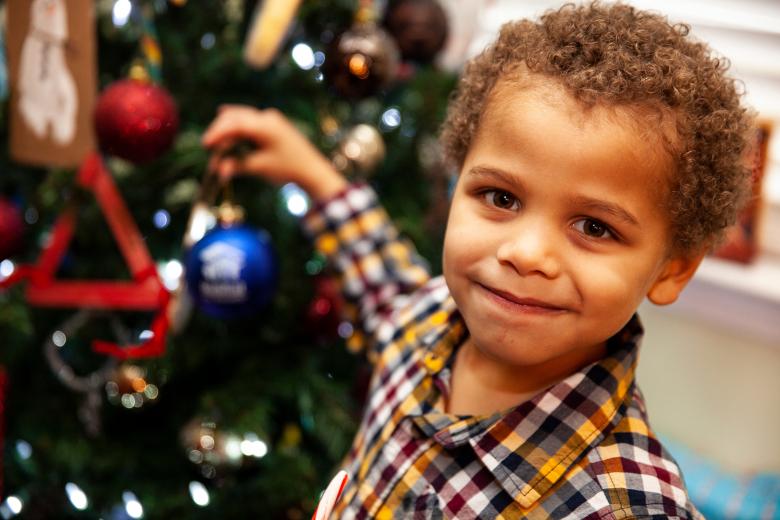 For 4-year-old Xzavier, that means traipsing through the backyard. When it snowed in Charlotte, it wasn't her kids' first snowfall, but, Merissa says, "it was the first time they actually got to enjoy it." In the safety of their own yard, the snow — pristine and waiting just for them — is now one of the first of many family memories in their new home. Xzavier recalls the day with a grin. "We made a snowball, a snow angel and a snowman," he says proudly.
In the short time they've lived here, Merissa and her children have made this newly constructed house a lived-in and loved-in home. A life-sized image of a snowman greets visitors at the front door. Inside is abuzz with the pitter-patter of socked feet running up and down the hallway and tiny hands reaching for candy canes on the Christmas tree.  Each bedroom is decorated to its owner's preference: a sports theme in one, superheroes in another. From the street, this warmth and light spill out from windows — a picture of home, in all its coziness, comfort and safety.
Christmas in this house likely will not be a silent night but a boisterous gathering, and a joyous one. "It's a chance to celebrate the end of the year and everything to be thankful for," Merissa says. "And we have so much to be thankful for."