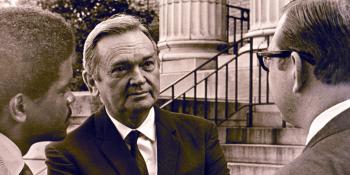 Clarence Jordan and Habitat for Humanity
Clarence Jordan was a farmer and Greek New Testament scholar from rural Georgia who dedicated his life and ministry to advocating for those living in poverty and for the equality of all people.
He also is considered the spiritual father of Habitat for Humanity, and our operational headquarters in Americus, Georgia, now bears his name.
In 1942, Jordan founded Koinonia Farm, an interracial Christian farming community near Americus where members worked together for the common good and all persons were treated equally. Today, Koinonia continues as a working farm and Christian community.
"Clarence said, 'Before we can do anything, we have to be something. Our actions have to spring from our inner character,'" says Bren Dubay, executive director of Koinonia Farm. "We really need to take this quote from Clarence to heart. We want 'doing' to come out of who we are."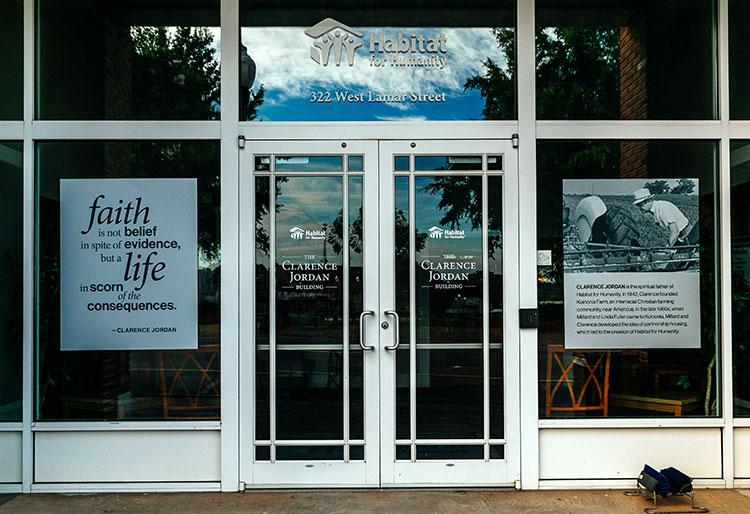 Jordan cared tremendously about helping local farmers break the cycle of poverty that affected many of the families living around Koinonia. He and his fellow Koinonia residents were fiercely committed to the equality of all people and to creating opportunity for everyone, even while living so close to a community that did not understand, welcome — or at times — tolerate their world view.
Habitat's founders, Millard and Linda Fuller, visited Koinonia in 1965 and were inspired by the work and ideals of the farming community. "It was a great time of transition for us," Millard later wrote. "We had never heard of Clarence Jordan. Very quickly, though, we got to know this extraordinary man. I felt, literally, that God had guided us to him."
In 1968, as part of the farm's continuing work to help area residents better help themselves, the Fullers partnered with Jordan and his wife, Florence, to develop a new initiative which focused its efforts on helping to improve the living conditions of local low-income people in need of decent and affordable housing. The principles of "partnership housing" would eventually form the foundation of Habitat's mission.
The concept centered on those in need of decent and affordable places to live working side by side with volunteers to build their future homes. Those homes would be built at no profit, and new homeowners' house payments would be combined with no-interest loans and donated funds to create "The Fund for Humanity," which would then be used to build more homes.
"Clarence Jordan's spiritual teachings and concept of 'partnership housing' provided the underpinnings that still guide our work today," says Jonathan Reckford, CEO of Habitat for Humanity International. "We believe it is critical to stay connected to the place, the people and the principles that are foundational to Habitat. And Clarence's passion for partnership guides Habitat still."