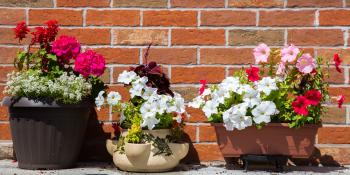 A community grows from one Habitat homeowner
As the very first homeowner in Lawrence Habitat's Comfort neighborhood, Cathy Brittain has been part and parcel of the growing community from its very beginning.
Brittain moved in to her Habitat home in 2006. Eight years later, she joined 15 other Habitat homeowners for a block party. The joyous September gathering marked the completion of Comfort's last house — and celebrated the fact that every resident there had helped to build their neighbors' houses as well.
Brittain is a single mother of four children who found herself living for a time in a homeless shelter. In 2004, "I decided I'd had enough and took charge of my life," she says. "I made a promise to my children that by the time they reached their junior high years, I would provide them a place called 'home.'"
One day, she asked colleagues at the bank where she worked for advice on how to qualify for a home. "They advised me to look into a program called Habitat for Humanity," she says. "And in December of 2006, my promise to my children came true and we moved into our home."
The name of the Kansas neighborhood where Britain lives comes from Clay Comfort, a longtime Lawrence Habitat volunteer and board member. A brick sign stands in a landscaped plot at the neighborhood's front corner, each brick bearing the name of a Habitat supporter who helped this community become a reality.
"I have lived in several homes, but living in one that is built by your own hands, your own love and the love of others is amazing," Brittain says. "During the building process, my children and I wrote Bible verses on the two-by-fours on the door threshold, and every day when we walk into the home, we understand how blessed we are.
"Whether it's snow that needs to be shoveled, grass that needs mowing, a family celebration, a Friday night gathering — the families of Comfort are in it together!"
Subscribe to our monthly newsletter
Get the latest Habitat news, volunteer opportunities, DIY tips and more ways to get involved.