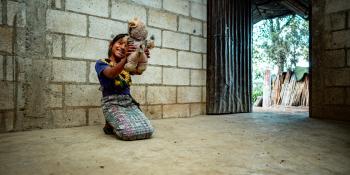 Concrete floors pave way for healthier future
Replacing 100,000 dirt floors with concrete will help families in Latin America and the Caribbean improve health outcomes
Melany crouches and chooses a red colored pencil from a rainbow of options spread out on the ground. As her right hand begins working on her coloring book, the toddler plants her left hand firmly on the concrete floor to steady herself.
Much of Melany's play time is spent on the floor of her home in San Juan Sacatepéquez, Guatemala — when the floor isn't doubling as her easel, it serves as center stage for her dolls. Watching Melany play on their new concrete floors, her mother Silvia is at peace knowing her daughter's play space is keeping her healthy, happy and imaginative.
"She rarely gets sick"
Prior to installing concrete floors in partnership with Habitat for Humanity and the Inter-American Cement Federation, known by its Spanish acronym FICEM, Silvia says the dirt floors in her home caused Melany to get sick every 10 to 15 days. "Now, with concrete floors she rarely gets sick," Silvia says.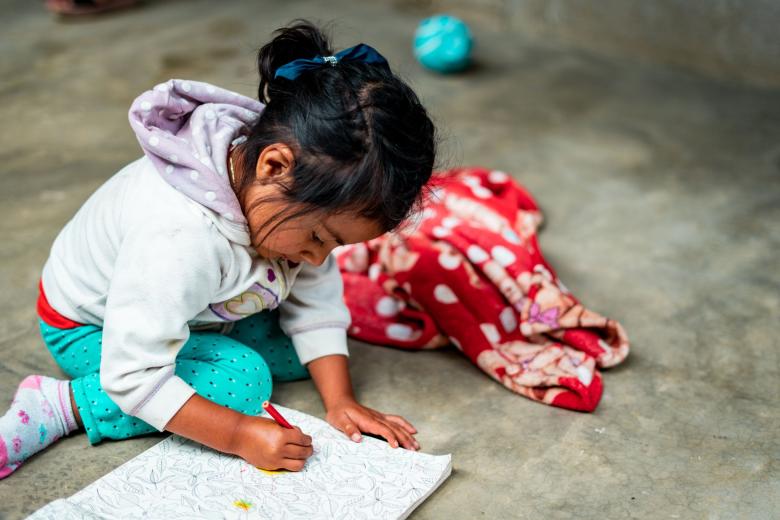 With children like Melany in mind, Habitat and FICEM launched "100,000 floors to play on," an initiative to help low-income families in Latin America and the Caribbean improve their health through floor upgrades. The partnership builds on the success of a 32-family pilot program run in Guatemala and seeks to install 100,000 concrete floors in the region by 2028.
An estimated 6% of households in Latin America and the Caribbean have predominantly dirt floors, leaving millions of families at risk of catching serious, sometimes deadly diseases. It's common for lower-income families in the region to incrementally build and improve their homes over time, sometimes taking years. Homeowners tend to prioritize building walls and a roof with their limited resources, deferring other essential elements of a decent home like concrete floors and access to potable water.
Impact of dirt floors on health
Dirt floors can pose major health and hygiene threats to families, especially those with children. They often serve as a breeding ground for parasites, bacteria and insects that cause respiratory diseases, immunodeficiencies and diarrhea — the second leading cause of death globally for children under five.
The illnesses contracted from dirt floors are preventable, says Ernesto Castro, Habitat's vice president of Latin America and the Caribbean. By replacing dirt floors with concrete, Habitat and FICEM can change the trajectory of health outcomes for vulnerable families. "Installing concrete floors brings an enormous change in the quality of life and health of families since it provides them with an adequate and healthy environment from which to build a better future," says Ernesto. "With these simple yet meaningful interventions, we have a great opportunity to positively impact hundreds of thousands of lives."
Concrete floors, concrete results
A study from the World Bank and University of California, Berkeley that analyzed household data in Mexico confirms the health benefits for families. The researchers found dramatic improvements in key health indicators for families who had replaced their floors. The research revealed a 36% to 96% improvement in cognitive development among children whose dirt floors were transformed into concrete. In addition, children in these households showed reductions in parasitic infections, diarrhea and anemia, while parents showed an uptick in housing satisfaction and decreases in depression and stress levels.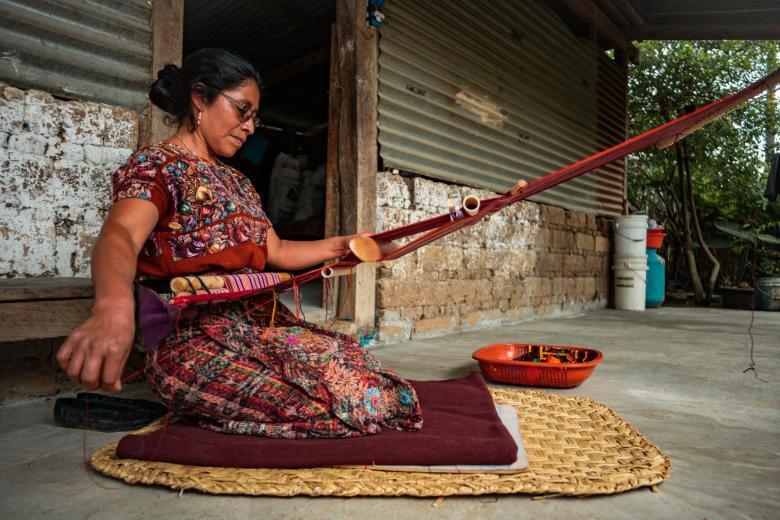 "A small intervention with floors can change the quality of life for children and also help them to have better development outcomes," says Maria T. Morales, Habitat's operations director for Latin America and the Caribbean. "Improved cognitive development can open a lot of opportunities for these children."
Depending on household needs, the "100,000 floors to play on" initiative will extend beyond floors and offer additional solutions such as access to clean water and upgraded stoves. These improvements, Maria says, will decrease families' risk to diseases and increase their earning ability as they won't be battling illnesses.
Maria says the floor improvements will also serve as a catalyst for families to improve other aspects of their house because homeowners will have renewed hope and pride in their home. "We are trying to help the family to begin the home improvement process. Changing the dirt to concrete floor is the first step. We are strengthening the family to continue to find their own solutions little by little."
Floors as a foundation
In the same city where Melany scribbles in her coloring book, María Isabel watches gleefully as her five children run and crawl around their recently upgraded floors.
The floor of a home is often the scene of a child's first crawl, first fall, first steps. In this moment for María Isabel, it's where her daughters take turns playing with a plush panda backpack and plastic guitar. Her concrete floor is serving as a foundation for a happier, healthier future for her kids.
"The children no longer play in the dust," María Isabel says. "My family is happy."