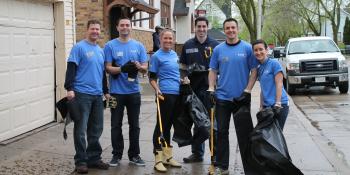 5 creative ways to volunteer with Habitat
Habitat for Humanity supporters help us build in all sorts of ways. It takes a lot of people performing a variety of tasks to make sure that more families have the safety and stability of a decent place to call home.
There are lots of ways you can get involved. Pick up a hammer, lend your voice or give as you're able – and consider adding one of these creative efforts to your to-do list.
1. Form a neighborhood cleanup crew
Milwaukee Habitat volunteers came together for this neighborhood cleanup detail in the community surrounding a local blitz build, which framed four new houses and began a home renovation project.
2. Bring lunch to the build
Al and Kris Grasley of Larson, Wisconsin, make lunch for homeowners and volunteers on Greater Fox Cities Area Habitat build sites. Kris sometimes brings cookies and water to sites too, and Al is a budget mentor for Habitat families.
"You don't have to swing a hammer," he tells Post-Crescent Media. "There is always a need. There's always something."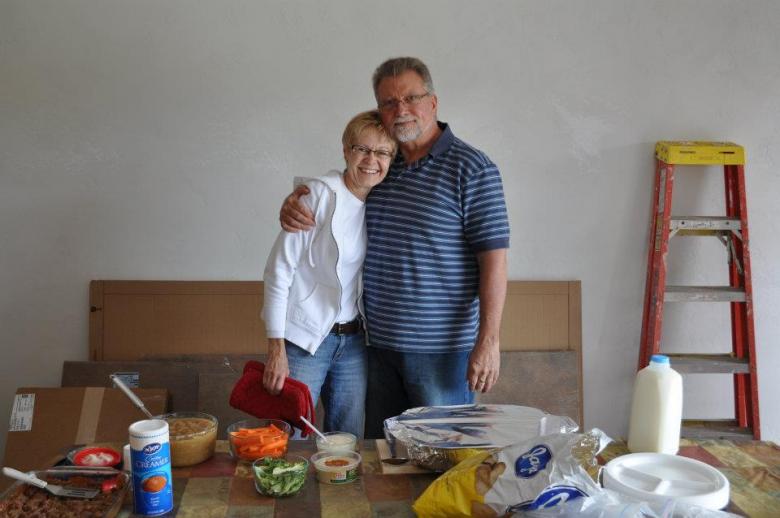 3. Join a family selection committee
Lori Amato has volunteered with New Jersey's Atlantic County Habitat for more than 10 years, conducting informational orientation sessions and helping to select new homeowners.
"The most awesome part of being on this committee," she says, "is having the opportunity to tell a family that they have been selected to become a homeowner! It's an extraordinary privilege."
4. Help stuff envelopes
This group is helping prepare a quarterly Habitat newsletter. "It is one of my favorite days as an executive director, working with all these happy volunteers," says Nathan Thompson of Minnesota's North St. Louis County Habitat. "The newsletter is a big fundraiser for us, as well as keeping our volunteers up-to-date on construction and Habitat happenings."
5. Put the "fun" in fundraise
In support of Habitat Greater Toronto Area's regional ReStore efforts, Upper Canada College students held a bake sale, and other supporters have sold barbecue lunches and held raffles and a cake sale.
In Fort Smith, Arkansas Valley Habitat elves wrapped hundreds of gifts at a holiday wrapping station in a local mall. The station is completely staffed by volunteers, says volunteer coordinator Jaime Hebert, about 100 of whom help every season. "We get people from all walks of life coming out to help."
Find volunteer opportunities at a Habitat near you.