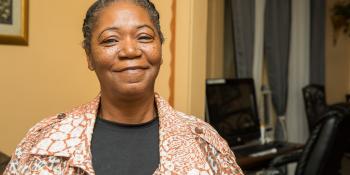 Critical home repairs in Texas
When the sun is out in Beaumont, Texas, Helen likes to stand in front of her blue house and look up. "It is beautiful," Helen says of her new roof.
It is even more beautiful on stormy days when she stays inside and the rain stays out. "It feels so good," says the 61-year-old grandmother. "It got the stress off of me."
The new roof is the result of a partnership between the city of Beaumont and Habitat for Humanity of Jefferson County. The city recently asked Habitat to manage its home repair program. The scope of work that had piled up prior to August 2017 only intensified after Hurricane Harvey devastated southeast Texas, damaging many, many homes and displacing many, many residents.
"We needed someone to help us, and the answer was right there in front of me," says Jo Ann Patillo, manager of Beaumont's Community Development Block Grant program that helps residents with home repairs. 
"Why not Habitat? They have an outstanding record. They know what they are doing. For us, this is just what we needed."
More families helped
The partnership also has been a boost to Habitat Jefferson County, which has begun a critical home repair program, allowing it to triple the number of families it serves. 
"We knew after Hurricane Harvey, we had to step up," says executive director Miriam Morgan. "It feels really good to be part of the community and part of the community-rebuilding effort."
Hurricane Harvey caused widespread flooding and wind damage throughout the area. "Some communities lost 80 to 90 percent of their housing. There wasn't any area that wasn't affected," Morgan says.
Habitat Jefferson County and its volunteers have worked on everything from total rehabs to roof replacements. In Beaumont, the city has some public money to put toward the repairs but often not enough to cover all of the work that needs to be done. When that happens, Habitat puts up the rest of the funds, and residents repay Habitat.
The list of people needing help is long, and residents who are older or disabled are being given top priority. 
The old roof on the home belonging to Helen and her husband Furtis had been leaking for years but the couple couldn't afford what a private contractor wanted to replace it. "We paid a couple of people a couple of times to put tar on there," Helen says.
After Hurricane Harvey 
During the hurricane, water started coming into the house through the light fixtures in the living room, kitchen — the whole house really. A bucket sat on top of the bed belonging to 9-year-old Jadon, Helen's grandson who has autism and lives with her. 
"I was kind of scared — I didn't want my house to catch on fire," Helen says.
After the storm moved on, the roof was in even worse shape. "I went to the city to see if I could get some help, and they told me to go to Habitat," Helen says. "They gave me confidence that it is possible that I could get a roof." 
She didn't even mind all of the racket that the workers made putting that roof on. "They did a real good job, and they did it with love."
Before Hurricane Harvey, Habitat Jefferson County built new homes and did some minor repairs. Adding rehabs and other critical repairs like Helen's roof work to its menu has allowed Habitat to serve many more people, many whose homes were completely destroyed.
"Every time we get someone out of a hotel, or out of a tent, or out of a relative's house, we know we are making an impact," Morgan says. 
"It is a personal mission always to work for Habitat. It is even more of a personal mission to put people back in their homes."