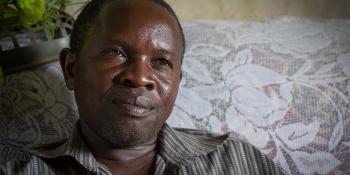 David, Harriet and their big extended family
Kakute, Uganda
People in David's village fondly call him "The Mayor" and are proud of all that he has accomplished. He not only has built a new brick home — the talk of the village — but also has installed electricity.
David and his wife, Harriet, live in Kakute, in central Uganda, where they have a brickmaking business, a two-acre banana farm and another farm that raises pigs. They feed, clothe and pay to educate 15 children — theirs and those of David's brother.
Many families in Uganda don't have access to mortgages and hesitate to apply for home improvement loans because they don't trust the banking system. Habitat Uganda is making affordable loans available to low-income families. David has taken out three loans, which have dramatically changed his family's life.
The family once lived in a mud-walled house in a compound, far from the village's main access road. "The situation was very bad, very bad indeed," David says. "If you are in a house that does not give you pride, then your body is not fine and neither are the children."
David is now seen as a trusted leader. "I am a treasurer at the church," he says. The electricity in his new home is helping the children be better students. 
"Being able to have the lights on after dark," he says, "helps them study well in the night."