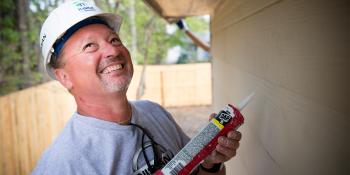 DIY home repair and preventive maintenance checklist
Spring brings a great opportunity for homeowners and volunteers to get outside and do a little preventive maintenance.
It's a chance to tackle simple tasks and fixes that can help avoid larger issues down the road — something Habitat for Humanity knows the value of and something any homeowner should be thinking about this time of year.
Here are three top tips from two Habitat construction leaders.
Greg Hammock, director of construction at Greater Cleveland Habitat in Ohio, says there are a few things we can all do to ensure that our homes remain places of safety and stability for years to come.
Homeowners can "have big-time problems with water" in the Cleveland area, he says. "Anytime you see pooling water, that is a potential problem."

Checking to make sure your gutters are clean and functioning well can keep water away from your home, he says.
Hammock also notes the importance of checking dryer vents in your laundry area. Spring "is a great time to start cleaning those out," he says. Dirty vents "can lead to fires."
"Take a walk around the house; check the foundation," he says.

Cracks in the foundation can lead to larger issues. Water can get in, the cracks may expand, and then it becomes an expensive fix. So check for small cracks before they become a problem, he says.

"You can prevent it with a $7 tube of concrete caulk," Hammock says.
His suggested stroll is echoed — and added to — by Mike Leffler, construction manager for Habitat Great Falls Area in Montana.
Leffler advises homeowners to check the siding on their home and to look for any kind of warping caused by wind or water. While you are at it, don't forget to check things out under your home. "Go down in the crawl space and look around; check and see if there's any shifting, any water," he says.
"We encourage them to check their trees" for signs of dead branches that could fall over power lines, Leffler says.
Finally, "check the caulking." Look for any separation in the caulk and address.
Habitat homeowners learn a lot about these kinds of maintenance and upkeep as they take classes, perform their sweat equity hours and help build their houses. Every home is an investment in a better, healthier, more financially stable tomorrow, and every bit of preventive maintenance gives families the power to keep building that future.
Subscribe to our monthly newsletter
Get the latest Habitat news, volunteer opportunities, DIY tips and more ways to get involved.