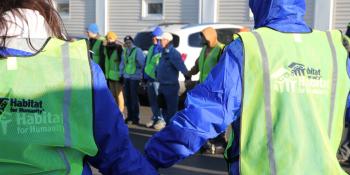 Echoes of Katrina: How Habitat brings back hope after a storm
Every so often — right as I'm waking up, in the split second before I open my eyes — there are mornings when I think I'm back in New Orleans. Before any conscious thought crystallizes, I sense the room around me, and I am comfortably at home. For just that one split second.
Every so often, I will still occasionally find that I've spent more than an hour rummaging through a closet, looking for a family photo that I'm sure I just can't find. And then I remember that I don't have it any more. Katrina does.
As you begin to realize the aftermath of such a destructive and powerful event — a path thousands of families will now walk because of hurricanes Harvey and Irma — you look around, consider the storm that just blew through your life and wonder what you have left.
At first, it's just crushing uncertainty and disbelief. All too soon, it will be waterlogged piles of mementos, belongings and debris that will start to accumulate outside ruined houses. It will be the grit in the air and the odd sweet smell that lingers during demolition and clean-up.
After Katrina hit the U.S. Gulf Coast in 2005, everyone in my home state of Louisiana talked a lot about the "new normal." The truth, of course, was that normal was gone. Katrina had claimed it and left us instead with a strange new now.
Families in towns and cities all along the East Coast joined us across that same tragic threshold in 2012 as Superstorm Sandy damaged and destroyed homes and businesses.
Part of what makes these storms so difficult for those at their mercy — part of what I felt and definitely part of what I saw when I visited the hard-hit town of Breezy Point, New York, a week after Sandy — is that they don't only happen to you individually. They also happen to everything and everyone around you.
There can be solidarity in that fact, but it's also very easy to feel, when everything familiar is suddenly and constantly so unfamiliar, as though you are just another one of the things tossed about by the wind and rain and water. As though you and yours are adrift and the rest of the world, with its business as usual, is somewhere out there, very far away.
What's amazing, though, is how people you don't even know can help mend that connection. This was what drew me to join Habitat's work after Katrina: a promise made and a promise kept. In all of Habitat's disaster response work — in the Gulf, after the tsunami, along the East Coast, in places like Joplin, Missouri, and Tuscaloosa, Alabama, and now as we plan our response in Texas to Hurricane Irma — there's the obvious need to repair and build houses alongside affected families. But I believe that the sense of strength and support that runs through all of those efforts is a very important part of why Habitat does what we do.
I believe that because of places like Breezy Point.
When I stepped out of the truck that morning just a week after Sandy had ravaged this small shoreline community in the New York City borough of Queens, nothing seemed untouched. Houses were tossed about, thrown into each other. A few had collapsed, while many more had basement and first-floor water damage. Huge piles already filled the sidewalks out front. Baseball cards and Christmas decorations mingled with tufts of insulation and the sand that came in from the sea but never receded. On the other side of the slim peninsula, as many as 100 houses burned down during the storm.
Nearly everyone I met during those days shared their fear that people would forget about them or not know what they are experiencing. But these families — schoolteachers and firemen and city workers — also seemed truly buoyed by the presence of Habitat for Humanity.
Much like those of us who loved the Gulf Coast so dearly and extended that love to all those who came to help us find a way out of the darkness, the joy in Breezy Point centered on those who offered help.
One homeowner, Kathryn, told me how earlier that morning she'd been in the middle of a complete meltdown, but that her husband walked up to her and said, "You can't do that right now. We have five Habitat volunteers." She claimed those five as part of her family — anyone from Habitat, really — and then, standing in the center of her completely gutted living room, she tried to feed us.
One of her neighbors, Mary, told me she knew much about Habitat — her two sons had helped build houses in Mexico and Tennessee. She marveled that now, so unexpectedly, someone else's sons were helping her take the first steps to restoring her home.
"We know we'll get through this," she added. "And now we know that we have help."
You will never know how much that help means. Rabindranath Tagore said that "faith is the bird that feels the light when the dawn is still dark." I've always thought hope is a bird of a similar feather, one that starts to sing as soon as the storm has passed. As Habitat's response to Harvey begins in earnest, it's a song that only needs a strong circle of friends to carry forward.
We are that circle of friends. You are that bringer of hope. With your support, you bring — to communities affected by disaster, to families living in unacceptable conditions, to neighborhoods struggling to revive — a presence that helps re-root them, a solid way forward that settles their spirit. You tell folks like Kathryn and Mary — and me — that Habitat will take the next steps with the communities they love so much.
I've seen what that knowledge can do in places like New Orleans and Breezy Point. Now, there are others who need to hear it, too. Their work — and their heartache — is only just beginning. Let them know they're not alone. Let them know that our Habitat family, because that's what we are, will be there for them as we've been there for so many others.
Louisiana-native Shala Carlson is senior director of storytelling and brand messaging at Habitat for Humanity International.
Donate now
Please give generously so we can serve families impacted by Hurricane Harvey and other disasters around the world.