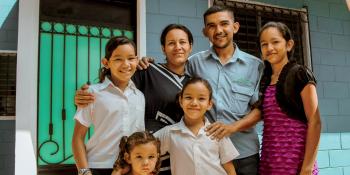 Energy conservation in action: Habitat home relies on climate
There was a time when Rita couldn't picture a better future for her family.
They lived on the slopes of the San Miguel volcano, known locally as Chaparrastique, in one of the hottest regions of Central America. The extreme temperatures there often negatively affect health, nutrition and overall quality of life.
Heightening that harsh reality, Rita, her husband, Omar, and their daughters lived in a structure made of tin sheets, plastic and blankets, a space that lacked electricity and access to drinking water.
Things have changed. Rita and Omar now live in the sturdy, affordable home they built with Habitat for Humanity El Salvador, one that relies on wind, vegetation, the sun and even the heat to reduce their energy needs and costs.
With design input from an engineering school and financial support from California's Habitat East Bay/Silicon Valley, Rita and Omar's bioclimatic house optimizes climate and plant life.
The sunshine that streams in from the outside keeps the family from having to turn on the lights much of the day. Yet the turquoise house's high walls and partial grass-carpeted roof help keep it ventilated and cool — even on 100+ degree days and without the expensive use of fans or air conditioning.
Recognizing this innovative design approach, the El Salvador Green Building Council has given its Champions Award for Sustainable Construction to Habitat El Salvador, which plans to build more bioclimatic houses like the one Rita's family now calls their own.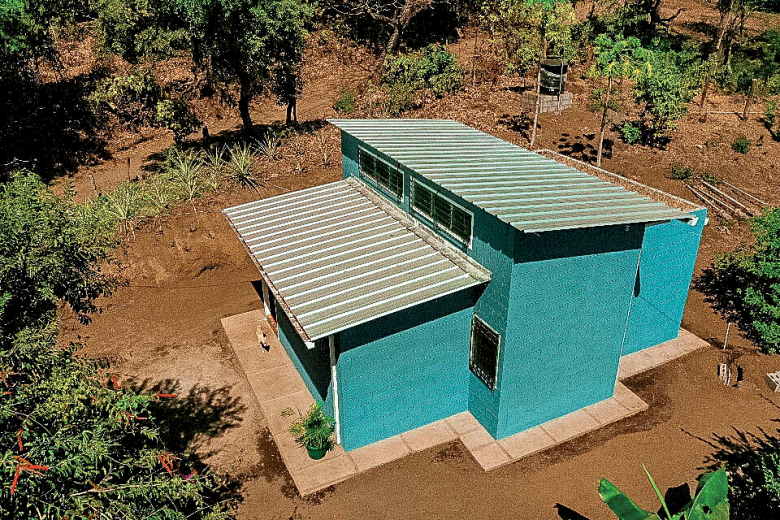 Subscribe
Sign up for our monthly newsletter to get the latest news, volunteer opportunities, DIY tips and other ways to get involved with Habitat for Humanity.