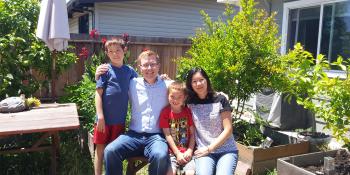 Evan, Kitte, James and Sean
East Palo Alto, California
Evan calls his Habitat house a force multiplier, and here's what he means. The affordable mortgage that he pays for his home in the San Francisco Bay Area allows him to support his family and continue his life's work and passion: teaching. With those high school diplomas in hand, his students, in turn, will leave their imprint on the world. "Teaching is all about taking students and encouraging the development of their growth and character," he says.
Not all that long ago, Evan wasn't so sure that he could afford to continue to teach after Kitte stayed home to raise their two young sons. Evan and Kitte met while working in disadvantaged schools through Teach For America — Kitte taught students in special education classes.
Living in the Bay Area on a teacher's salary is tough and getting tougher all the time. "This is a really hard place to make enough money teaching to pay for housing and to live," Evan says. "It is a real challenge for schools to get and keep qualified teachers." He knows teachers who work in the area and commute two hours each way to afford a decent home.
Evan and Kitte had been paying 60 percent of their income to rent a home in one of the area's less expensive communities. "We had a lot of mold and moisture problems in that house," Evan says. Their younger son, 6-year-old Sean, has allergies. "We were dealing with coughing and asthma issues with him," Evan says.
Several years ago, when Evan was principal and a biology teacher at a small Christian school, he was clearing the clutter from his desk when he ran across fliers that Greater San Francisco Habitat had dropped off.
"I looked at one and realized that I was right smack in the middle of the income range to qualify," Evan says. "And in this real estate world of making a buck, here was this program that was completely surprising and wonderful."
Today, Evan and Kitte pay an affordable mortgage for their rehabbed Habitat home in East Palo Alto, where they have put in a dozen raised beds teeming with vegetables and flowers. Sean's cough has gone away, but he's kept his love of insects, which he constantly graces the house with.
Evan's old school closed, but he has a job at a different one teaching biology. "Habitat has allowed me to stay in education," he says. "As I said, it is a force multiplier."