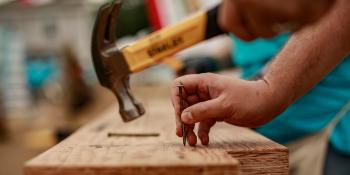 Families broaden their horizons through the 2019 Carter Work Project
For Eno, an affordable home will allow her to invest in her children's future. For Erica and Neil's family, it is a fresh start following tragedy.
They are among the 21 families — each with their own hopes and dreams — building their homes alongside a former U.S. president and first lady and volunteers from around the country at the 2019 Jimmy & Rosalynn Carter Work Project in Nashville, Tennessee.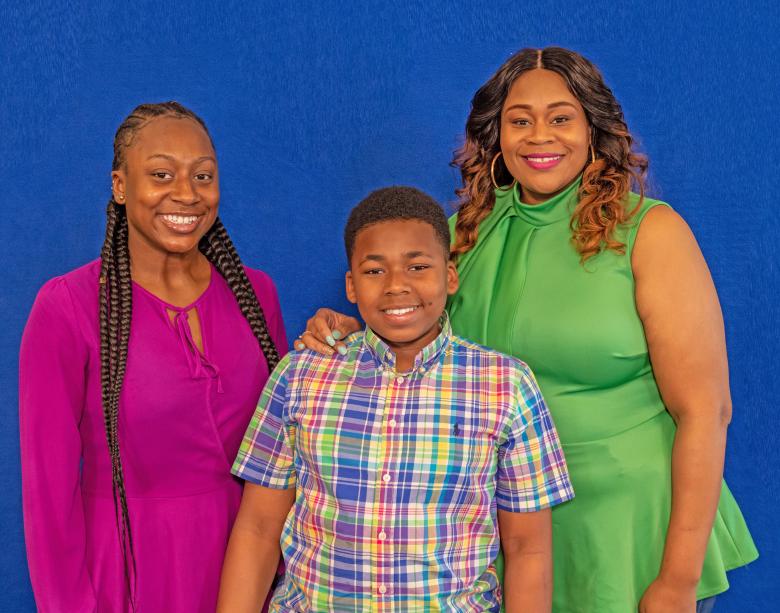 Eno, Tyree and Jermiah
Nearly every year, Eno's rent goes up. Sometimes, it's a smaller change — $20 one year, $50 the next. But recently, the cost of the Nashville, Tennessee, home where she and her two children have lived for 10 years jumped an additional $200 a month. It was a wake-up call for the 37-year-old healthcare administrator.
"I have been there so long, and I have done a lot of improvements to the house even though it isn't even mine," Eno says. "All this time, I am building equity on someone else's home for their family — but I should be doing that for my own."
She set out to buy a home for her family, but quickly hit a wall. Even if finding a house within her budget were feasible in one of the nation's hottest housing markets, Eno was unable to secure the mortgage necessary to purchase it. "My student loans knocked me out pretty much every time," she says. "I went to school. I was in a stable job — it'll be eight years this year. I really thought we were in a position to finally get a home. Nothing super fancy, just something that could be ours. But everything was out of reach."
After a disheartening series of nos, Eno enrolled in financial independence courses with a local nonprofit where she spent nine months undergoing weekly financial empowerment and life-skills training with a mentor. Armed with new knowledge and confidence, she applied to Habitat Greater Nashville's homeownership program. She finally received her yes. "Getting that call from Habitat put me and my family on a different path," she says.
Eno, her 12-year-old son, Tyree, and her 17-year-old daughter, Jermiah, are among the 21 families building their homes as part of Habitat's 36th Jimmy & Rosalynn Carter Work Project. Volunteers from around the country work alongside future homeowners to help construct the houses over the weeklong event, a fact that took Eno aback. "These people are traveling and paying and willing to put in the work for me and my family. People who we've never even met before. It's surreal," she says.
It has inspired her. Since her selection as a future homeowner, Eno has been advocating for affordable homeownership, telling others how important a stable and secure home is to a family's well-being. She shares Habitat's work and the insights that she's gained from attending Habitat's financial literacy and homeownership courses. She's eager to share her story because, like she tells her daughter, "It's important to be the person you needed when you were younger."
"Habitat has totally broadened the horizons for me and my family," Eno says. "I realized that there might be somebody else who is just like me, who went to school, kept a steady job, who needs to see that this is possible and that they're not alone."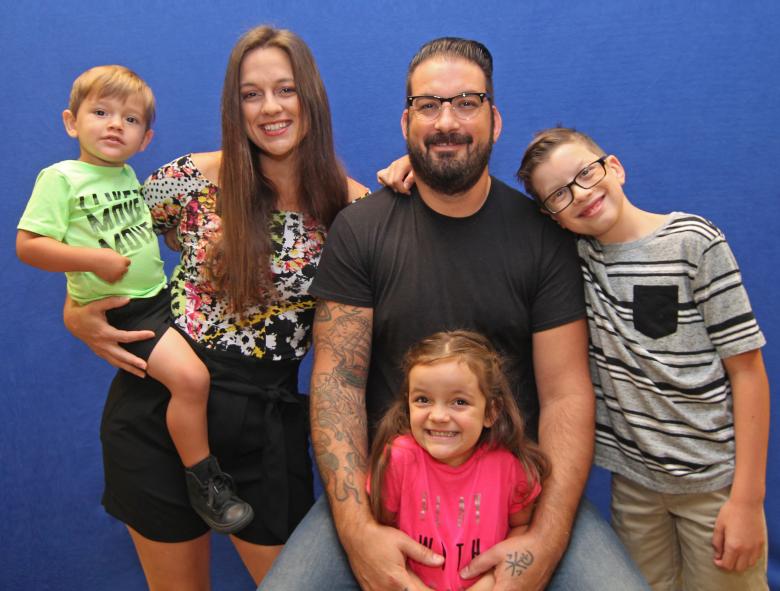 Erica, Neil, Brenden, Jocelyn and Nathan
Erica and Neil aren't just building their new home during the Carter Work Project. They are also taking another big step in rebuilding their lives.
"I remember when we first got together, it was so hard for us to see a happy future," Erica says.
That was then. On Sept. 7, the couple celebrated their first wedding anniversary. "Now we are building this wonderful new home in a safe neighborhood, with families and children and a park our kids can play in," Erica says.
There was a time when Erica wasn't sure life would be good again. Three years ago, she found herself a widow at 27, with a 1-year-old and another child on the way. Erica's first husband died from an undetected heart condition on the way home from playing basketball. A few days following the funeral, Erica discovered that she was pregnant with their son, Nathan, now 2. "Nathan is the bright part of that story," Erica says. "But I wrestled with my faith and spent a good amount of time being super angry."
Erica started a blog to help work through her grief and depression. Then, she met Neil at church where he oversees the building's maintenance. The two had a lot in common. Having recently divorced, Neil was struggling with his own loss. Like Erica, Neil knows the responsibilities that come with parenting — his son Brenden is 11. "We were both heartbroken and had been bracing for the next bad thing to happen," Erica says. "Then, we just said, 'What if everything was just good from here on out?'"
They applied to Habitat shortly after they got married. "We were both ready for a home that we can afford and stay in," Erica says. Before meeting Neil, Erica had moved four times looking for a decent and affordable place. Neil had her beat — he had moved eight times.
The apartment they are living in now is small and in an old building. "We are trying to be as creative as we can with our space, but we are real cramped," Erica says. "Our heating and cooling bills are astronomical. But it is the only thing that we could find that is relatively affordable. We were stuck."
The Habitat community going up during the Carter Work Project represents a new start. "The kids are really excited, mostly my daughter, Jocelyn, because she wants a cat," Erica says. "I am excited, too. When we asked what if everything was good instead of bad, we also asked, 'What if we had an amazing home?' And now, we will."