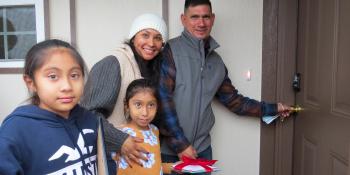 Family breaks the cycle of housing instability
All his life, Jose Luis had dreamed of a better future for himself and his family — a dream that always started with home.
As a boy growing up in Mexico, Jose Luis faced repeated housing insecurity. During his youngest years, he lived with his parents and brother in a crudely constructed lean-to. "It was mostly made of cardboard. For repairs, we used the cheapest materials we could find," he explains in his native Spanish. From there, the family of four built and moved into a 12-by-12-foot single-room house. But because they didn't own the land, when the relative who did own it decided to relocate a short while later, Jose Luis and his family were forced to vacate.
Without shelter, the family scraped together what materials they could to put a roof over their heads once again. "We couldn't afford to get food because we had to use all our money to buy house materials just to have a place to live," Jose Luis recalls.
As the family's struggles and instability continued into his adolescence, Jose Luis knew something had to change. So, in their early 20s, Jose Luis and his brother moved to the U.S. in the hope of improving their chance at safer and healthier lives.
Yet despite his tireless determination and securing a stable job as a welder, Jose Luis couldn't seem to rewrite the story for his own family. For years, he and his wife, Patricia, who he met at church, struggled to secure an affordable place to live in their community that was also safe for their daughters, 10-year-old Betzabe and 7-year-old Patty. While renting a dilapidated apartment carved out of a converted hay barn, they purchased a small parcel of land from a friend with the dream of one day building a home of their own on it. But as those days turned into years — and the cost of construction continued to outpace their wages — their dream only seemed to get pushed further out of reach.
"We were debating simply selling the land. I didn't believe that we would ever have our own home," says Patricia. "And we probably wouldn't without Habitat."
The difference between a house and a home
After learning about Bryan/College Station Habitat for Humanity's affordable homeownership program, the couple applied and were approved to build their family home, with Habitat's help, on the land they had, by this point, invested in a decade earlier.
Building alongside them were strangers — volunteers from their immediate community and across the country. "We were able to meet so many special people through the process," says Patricia. One volunteer construction crew that particularly stuck out to her was a group of students from Catholic University of America who traveled pre-COVID to Texas from Washington, D.C., participating in Habitat's Collegiate Challenge program during their spring break. She says that having the whole week together allowed them to bond more deeply — and the students, who typically volunteer one Saturday at a time throughout their school year, agree.
"We met the family at a barbecue on our first day in Texas, and the very next day, we started working on their home with them," says Melissa Cowell, one of the student co-leaders of the trip. Together, the future homeowners and university students raised walls and trusses. The work didn't end there.
"Throughout the week, we helped with different homes that Bryan/College Station Habitat was building in the area — and Patricia and Jose Luis were adamant that they be there, too," says Melissa. "Wherever we went, they came alongside us and helped other families build their homes."
Home dream home
In December 2020, Jose Luis, Patricia and their girls finally closed on and moved into their Habitat home. Volunteers-turned-friends signed the steps leading up to the attic with blessings for the family — a continual reminder of the community who came together to help them achieve their dream.
Throughout construction, Jose Luis had kept his mom, who still lives in Mexico, updated on the progress of their home with videos and photos. She was his first call once they closed on the house. "She's so proud," he says. "She knew how badly I wanted this for my family and how difficult it is to do because, despite trying so hard, she couldn't do it for her own. So she's just so proud and so grateful for this new beginning for us."
Since moving in, everyone in the family has identified their favorite things about the house. It's the living room for Patty, the youngest, because it gives the family space to hang out together. For Betzabe, it's the bathroom thanks to the working tub, a luxury their last apartment lacked. For their parents, it's the sense of freedom and of peace that the home as a whole provides to each of them.
"Getting kicked out of our home as a child always stayed with me," says Jose Luis. "So it's indescribable, really, to have the comfort of being able to provide this home for our kids, to eliminate that worry for them. We didn't think it would ever happen."
Patricia's eyes fill with tears as she adds, "It really is the home of our dreams."