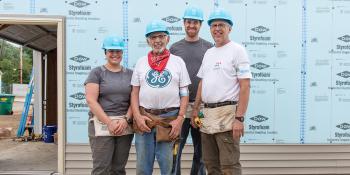 A family reunites to build with others
Like so many these days, the Stoesz family is spread far and wide. Its patriarch, Edgar, lives 600 miles from his son Randy, and his grandson David is almost double that.
Any time they can get together is special, David says. However, building a Habitat house so that somebody else's family can make their own memories is even more so.
"It is always good to see my family," says David, who works for the Nature Conservancy in Ocean Springs, Mississippi. "To have a reason to see them is even better."
 "For us, it is all about the families," Edgar says. The 89-year-old from Akron, Pennsylvania, is a long-time Habitat volunteer — he served on the international board for eight years in the 1990s and was its chair for four. His book, Doing Good Better: How to be an Effective Board Member of a Nonprofit Organization, sits on the shelves of many Habitat offices. 
Edgar has participated in the Jimmy & Rosalynn Carter Work Project six times, including ones in Washington, D.C., and Hungary. His son accompanies him on builds.
"We have several running jokes — one is that he is the boss and I am the foreman. That way, we can both be in charge," says Randy, a pediatrician in Indianapolis who volunteers with Greater Indy Habitat. "On builds, we try to work together when we can, and probably balance each other out some, as I can be a bit of perfectionist."
Edgar met up with Randy and David at the 2018 Carter Work Project in Mishawaka, Indiana, along with another grandchild, Libby. He was impressed with his progeny's way around a build site. "They are excellent builders," he says.
In Mishawaka, the four worked alongside future Habitat homeowner Dionysia. She can't wait to provide a stable, calm home for her son, Simari, and her mother, Freddie, who has Alzheimer's. "Habitat was a helping hand in a time of need for me," says Dionysia.
The build in Mishawaka was special to the Stoesz family. "And it will always be," Edgar says, "To know who we were building with was a highlight, and to see compassion and caring for others translate from your children to your grandchildren — well, that is a dream come true."
"Habitat is an organization that reaches families on the ground," he continues. "It is an organization that puts a high emphasis on volunteers, and it doesn't just take highly trained volunteers. It welcomes everyone, as long as you are willing to be involved."
The Stoesz family plans to continue to stay involved. They already have started planning for the 2019 Carter Work Project in Nashville, Tennessee. "I am delighted that my family is following my secret to a good life," Edgar says. "And that is to live for others."