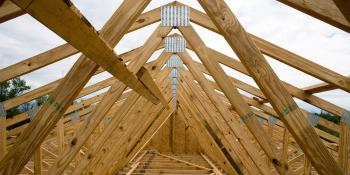 A family volunteers together and grows closer
It's hard to chat and hammer, Linos Frantzeskakis says, but he and his two kids have managed to work in some conversations and laughs on Habitat build sites. They've also bonded.
"We've had a good time and a valuable time, doing something together to help someone else," says Linos, an engineer from Marlboro, in central New Jersey. "A house is not wood and nails. It is your refuge, your point of reference. I cannot imagine how difficult it must be not to have that for your family."
Linos and his wife, Christine, began donating to Habitat in 1999. Six years ago, they became HopeBuilders and now make a financial donation every month to support Habitat's work. "I tell our kids that the value of money is the effect it can have on someone's life," Linos says. "Every other use ranks lower in value. The same is true with time."
Linos and children, Jason and Zoe, started putting in time on Habitat build sites following Hurricane Sandy. The 2005 disaster devastated communities just a few miles from their home. "Although I live near the shore, for my family, Hurricane Sandy was a mere inconvenience," Zoe says. "The pictures and videos I viewed afterwards made me realize how houses holding a lifetime of memories collapsed to the ground like sandcastles."
"We've had a good time and a valuable time, doing something together to help someone else."
— Linos Frantzeskakis, Habitat volunteer
Following the hurricane, Jason immediately started getting his hands dirty. "There was a period where almost every other weekend, I was on the job site with him," says Linos, whose family volunteers with Habitat Monmouth County. "Jason learned a lot of things — teamwork, how to use a drill and put in insulation."
Zoe, not to be outdone by her brother, threw herself into fundraising for Habitat and counted the days until she was old enough to work on a Habitat build site. "It was burning her up that Jason could build and she couldn't, so much so that she had me sign her up for a build on her birthday when she became eligible," Linos laughs.
Together, Jason and Zoe started a Habitat campus chapter at their high school. First, Jason served as president; then Zoe took the job after her brother went to college. Both children received the President's Volunteer Service Award.
Jason is now attending Purdue University and is involved with the Habitat chapter there. Zoe will attend college in the fall and has every intention of continuing her involvement with Habitat. Linos plans to continue his work on Habitat homes, too. "I have gotten to meet and work alongside a lot of great people. It is admirable — and humbling — to see such commitment from folks," Linos says.
"Habitat is not something that is easy to drop, even if you wanted to. It is one of those things that follows you all of your life."