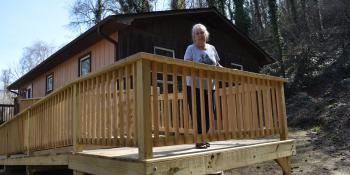 Patricia's home sits on land in North Carolina that was passed down to her by her parents. Her siblings also settled nearby on the family's property. "I was born on this land," says Patricia, a 73-year-old mother of two and grandmother of three, "I've always lived on this land."
Having the support of family close by was important when Patricia's son, James, became ill. After a long-term hospital stay, Patricia was told James couldn't be released if she didn't have a ramp built so he could easily enter and exit her home. "He wanted to be home so bad," says Patricia. "But they wouldn't let him come home until he had a ramp."
An answered prayer
Patricia, whose home is built on a mountain, contacted several local contractors for a solution. They all told her building a ramp would be nearly impossible. Her property's steepness would require a ramp extending from her front porch, located on the second story of her home, to a parking area around 100 feet away. And a spring near her home sometimes overflowed, which would interfere with the integrity of any footers built to secure a ramp. One contractor suggested installing a lift to help James move from the ground level to the porch, an option too expensive for Patricia's budget.
When someone from her church told her that Habitat for Humanity helped make homes more accessible, Patricia visited Habitat Henderson County. The affiliate's director of fundraising and grant management, Toni Thayer, helped her apply for a home repair grant. "We felt that it was a pressing situation, and we wanted to make sure that we could help in any way," Toni says.
Once Patricia was approved, Toni made the call to share the happy news. "The first thing she said was 'God bless you. I can't believe it,'" Toni says. "And I was on the other end saying 'I'm so excited for you, and I can't wait till James gets to come home.'"
A creative solution
Habitat Henderson County's home repair program helps homeowners make critical home repairs, including modifications to make them more accessible. The affiliate found a creative solution for Patricia's new 60-foot ramp that perfectly suited James' needs. Their construction crew dug a French drain that rerouted Patricia's spring away from her home, allowing them to build safe and secure footers. They also regraded the land to create a driveway that allows cars to drive up to the end of the ramp. With the help of volunteers, including members of Patricia's family, the ramp was built within a month.
"They built the most well-engineered ramp I've seen anywhere," says Patricia. "It's a beautiful ramp, and it has two little landings. And they fixed it to fit right in with my house's porch."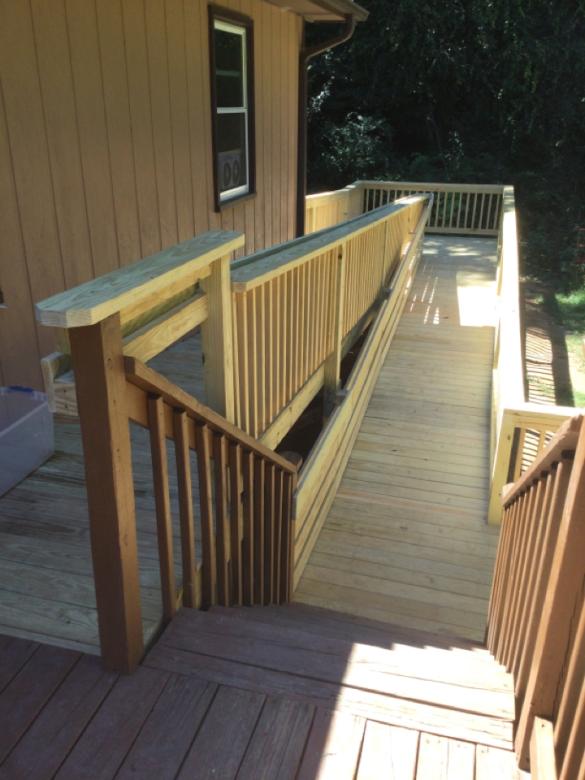 Patricia, who had fallen down her front steps twice, says the ramp has also given her a sense of safety and security in addition to what it means for James. "It also means a bit of stability for me, getting me in and out as I go," she says.
Patricia's innovative home repair was made possible by the continued support of Habitat's long-standing partnership with Lowe's. "Without the Lowe's grant, we wouldn't have been able to purchase the materials that we needed to do this home repair," says Toni. "These grants allow us to help more people in the community like Patricia and James."
Habitat and Lowe's have worked together for 20 years to help homeowners build and improve a place they can call home. In 2022, Habitat and Lowe's helped repair 559 homes across the U.S.
A place to be together
With the ramp in place, Patricia treasures having James home. "It's really been a blessing," she says. Having the ramp has meant the world to James, too. "He said that it gave him a means to the rest of his life," says Patricia.