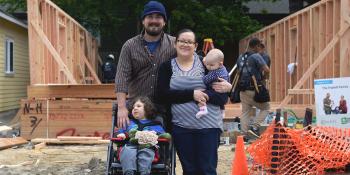 Gabe, Sylvia, Oscar and Lucy
Portland, Oregon
A child changes everything, even more so when the child is Oscar.
His mother, Sylvia, describes the 3-year-old as a happy, strong and determined boy who, in the face of some big challenges, surpasses expectations. Oscar didn't get enough oxygen at birth, resulting in cerebral palsy, vision problems, developmental disabilities and other special needs. He doesn't talk or walk.
Sylvia gave up her work with at-risk teens to stay home and care for Oscar. His dad, Gabe, also felt compelled — inspired really — to change things up. "I realized that I needed to get busy following what I felt like God was calling me to do," Gabe says.
He is now a pastoral associate at a church in a tight-knit community in Portland that has rallied around the family. "This neighborhood is the kind of place where my wife and I want to raise our kids," Gabe says. And now they can.
Habitat Portland/Metro East has been working with community partners to build affordable housing there. One of the new Habitat homes is designed to accommodate people with disabilities. This will be Oscar's house, where he will grow up with his new baby sister, Lucy.
"Having a Habitat home means stability and affordability, which is something that is in very short supply in Portland," Gabe says. "It means that we can enjoy living where we are. It means more opportunity for our son."
The family has been living in an expensive rental. Gabe and Sylvia have to carry Oscar in and out and around their house, which has stairs and standard doorways and is not wheelchair-friendly. "Oscar is getting bigger and bigger, and it is getting harder and harder to carry him up the stairs," Gabe says. "It is also getting less and less comfortable for him being passed around.
"My son loves to go out and be with large groups of people. He loves going to the school, the church, the park," Gabe continues. "That would happen less and less living where we are. It would not only isolate Oscar, but it would isolate our whole family."
Their new home has an entranceway with no steps and wider doorways and hallways. It also can accommodate other adaptations that will be needed as Oscar grows up. "Our Habitat home is going to take a lot of obstacles out of the way, and that is a real big deal," Gabe says.
A professional carpenter before changing careers, Gabe is completing the hundreds of sweat equity hours required by Habitat by working on his and other families' homes. In addition to his full-time job, he is taking college courses in religious studies and driving for Uber. "Yes, yes, we are busy, super busy," he laughs. "People with children with disabilities, they make things work. We are making it work."
And that means a comfortable home for everyone, including Oscar. "Owning this home will give us so much peace of mind," Sylvia says, "and allow both Oscar and Lucy to have the stability and quality of life they deserve."