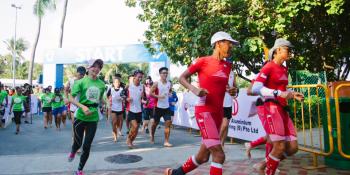 Getting active in support of Habitat Singapore
A record number of participants — more than 6,000 — took their shoes off in late May for the seventh annual Bare Your Sole, the flagship charity walk event of Habitat for Humanity Singapore.
Bare Your Sole 2015 raised nearly US260,000, the second-highest amount since the event was launched in 2009. The funds will go toward Project HomeWorks, a Habitat Singapore program that seeks to improve the living conditions, safety and sanitation of the elderly, ill and physically challenged.
As part of a larger effort to raise awareness for charitable organizations, ultramarathon runner and Habitat supporter Lim Nghee Huat ran 50 kilometers (about 31 miles) on the same day as Bare Your Sole. Lim — the runner in a white baseball cap seen here leading Bare Your Sole participants — was attempting to achieve the feat of completing 50 races, each covering 50 kilometers, to mark Singapore's 50th birthday.
Subscribe to our monthly newsletter
Get the latest Habitat news, volunteer opportunities, DIY tips and more ways to get involved.