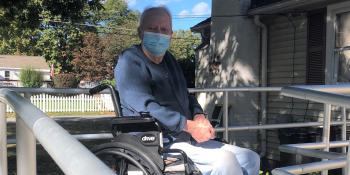 A gift of gratitude: Ernie's story
It had been a year since Ernie, an outgoing 87-year-old U.S. Army veteran, had been outside on his own. The entrance to his home for the last 50 years — the one he had shared with his late wife and raised his children in — could not accommodate the wheelchair he now used. His family would carry him, and then his wheelchair, down the steps and to their car to get to medical appointments. The appointments were the only time he left the house.
After months of this kind of physical isolation, and months of encouragement from his social worker, Ernie applied for Habitat for Humanity of Greater Lowell's Critical Home Repair Program. The program is designed to improve residents' quality of life through repairs that help them increase their independence and improve their safety. At Ernie's home, volunteers planned to erect a ramp so he could spend time outside on the days he didn't have doctor's appointments — and would have an easier time of getting to the car on days when he did.
Before they could get to work, members of the volunteer crew first had to move Ernie's car out of the way. The beige 2005 Mercury Sable had been sitting untouched in the driveway, and no one was sure if it even had enough power to run.
"It started, but then it conked out," Ernie says with a laugh. "So, they had to push it to the side. They even cleaned out the mouse nest and acorns in the engine." As the volunteers began working, Ernie took in the scene from his living room window. "It was just amazing watching them that day," he says. "There were about five of them. Everyone had a job to do, and they did it in jig time."
As he watched, he grew determined to return their kindness — and figured out exactly how he was going to do it. He would put his inactive Mercury Sable to use by donating it to Habitat's Cars for Homes program. "It was the least I could do," he says.
"Ernie didn't accept help for the longest time and once he finally did, all he could think about was how he was going to use it to help someone else," says Lisa Garvey, community outreach director for Habitat Greater Lowell. "As a proud veteran, that sense of service is just part of who he is."
Through Cars for Homes, individuals can donate their used vehicles — including cars, motorcycles, RVs, boats, even snowmobiles — to support Habitat's work. Depending on their condition, the vehicles are either sold at auction or to licensed direct buyers that can make repairs as needed and/or salvage parts. Proceeds from the sale of the vehicle are donated to Habitat — with the majority invested in the affiliate and community where the car is donated. For the past five years, vehicle donations through the Cars for Home program have provided more than $21 million for participating Habitat affiliates, helping more families achieve the stability and security of affordable homeownership.
For Ernie, Cars for Homes offered the perfect solution — both to make an impact and lift a weight. Although he was no longer driving the car, it was still costing him. "I'm saving a lot of money on insurance and registration fees," he says. "It's a relief."
After sorting out his title, Lisa helped Ernie schedule the donation online. Soon after, the car was picked up from his home, and, once the sale was complete, the proceeds were donated to Habitat Greater Lowell. "Working with him on this process was special because it meant so much to him to give back in some way, but he's on a fixed income and not in a place to contribute financially," says Lisa. "And now, his gift will allow us to assist even more wonderful people like him. It's full circle."
These days, when the weather's nice, Ernie soaks up the sunshine on the landing of his ramp and chats with neighbors who pass by. Along with freedom and social connectivity, he also enjoys a sense of peace. "I feel more safe and secure. I can come in and exit my house so easily," says Ernie. "If there is ever an emergency, I can get out with no problem. It's the first time in over a year that I've been able to do that."
Donating the car, he says, was just a small token of his gratitude for all these things. "I am happy I could pay it forward," Ernie says.