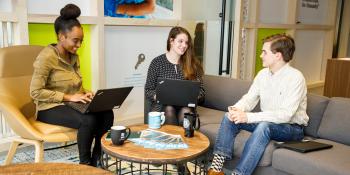 Habitat AmeriCorps alumni share why they served
Every day in communities across the United States, hundreds of AmeriCorps members work locally with Habitat for Humanity, helping volunteers and families address the very real need for safe and affordable housing.
These members are part of a network of more than 11,000 AmeriCorps who have contributed more than 18 million hours towards Habitat's mission since the inception of the national service program in 1994.
The AmeriCorps members who sign on with Habitat fill roles in both rural and urban areas. Some work behind the scenes recruiting volunteers, designing programs and raising money. Others can be found on build sites pouring concrete and raising walls alongside future homeowners and leading local volunteers. 
During their year-long term, each member leaves an indelible mark on the families they work beside and the communities they help strengthen. Those families and communities change them, too. These Habitat AmeriCorps alumni recount their inspiration for joining, their experiences in the field and the lasting impact that serving has had — and continues to have — on their lives.
Q: What motivated you to join Habitat AmeriCorps?
"As a product of affordable housing programs, I understand the importance of families being able to afford a safe place to live. Habitat AmeriCorps gives individuals an opportunity to serve families and individuals who oftentimes don't see homeownership as a possibility. I wanted to be a resource to those same people because I knew, from personal experience, that homeownership can alter the trajectory of the lives of children and their families."
— Meriem Monroe, manager of alumni relations and special events, University of North Texas at Dallas. Served as 2013-2014 AmeriCorps State/National member with Dallas Area Habitat.
"At 16, I was called to service through AmeriCorps. As a student in a public service program offered by my high school, I had the opportunity to talk to an alumna who was serving. The idea of serving my country through community service was exactly my calling. That was my first experience realizing that nonprofit organizations could potentially offer me a future career track. I saved the AmeriCorps brochure the alumna gave me, always keeping it within sight to remind me of my life goal of 'service before self.'"
— Megan Young, constituent engagement specialist, Habitat for Humanity International. Served as 2008-2009 AmeriCorps VISTA with Habitat Baldwin County and 2009-2010 AmeriCorps VISTA with Houston County Habitat.
"In 2012, Superstorm Sandy devastated our town and our home. Habitat Monmouth County rebuilt our home and our hope. After that, we became regular volunteers and ambassadors for Habitat. A position opened at Habitat Monmouth County for an AmeriCorps VISTA. I signed up and was honored to serve. It was a journey of the heart inspired by a devastating event."
— Barbara Durchak, self-employed. Served as 2015-2016 AmeriCorps VISTA with Habitat Monmouth County.
"While in college, I participated in two alternative spring break trips to build with Habitat in Greensboro, North Carolina, and in York, Pennsylvania. Both experiences made me feel like I was making a difference. My childhood home was, and still is, a very special and important place for me. When I participated in those spring break trips, I felt complete. To know that my hard work to create a house would impact someone's life the way my childhood home impacted mine — to be a place for security, growth and love — made me extremely happy. When I found out about the Habitat AmeriCorps program, I knew I had to serve."
— Shannon Perry, development and communications manager, Hemisfair Conservancy in San Antonio, Texas. Served as 2006-2007 AmeriCorps VISTA with Habitat Virginia.
Q: Why is national service important?
"National service provides you with the opportunity to connect with a person or entire community in a way that is deeper than casual conversation. Day in and day out, you start to learn about how others live, what drives them, what struggles they have, and this allows someone to gain empathy and understanding. These two factors are so important for self-growth. Empathy and understanding are also the way we as Americans need to approach all issues to progress as a society. In addition, national service is important because it teaches members how to be responsible. You have to show up. That level of responsibility builds character."
— Jenna Grubman, manager of partner engagement and marketing for global trips, Habitat for Humanity International. Served as 2009-2010 AmeriCorps VISTA with Habitat Washington, D.C.
"Service has the power to bind us together through our shared humanity. When we serve others, we learn more about the communities we live in, and, just as importantly, we learn about ourselves."
— Derek Kendall-Morris, project specialist, Urban Redevelopment Authority of Pittsburgh. Served as 2008-2009 AmeriCorps VISTA with Habitat Greater Pittsburgh.
"National service gave me opportunities that I wouldn't have otherwise had to see the challenges people in my own community and all over the country face every day, especially in finding affordable housing. I got to be part of the 'boots on the ground' approach to taking small steps to solve these big problems. National service allowed me to use the skills I already had and develop new ones, to make a difference."
— Liz Bagley-Sepsey, family services coordinator, Habitat Greenville County. Served as 2017-2018 and 2018-2019 AmeriCorps State/National with Habitat Greenville County.
"What better way to give back to a country that has given us so much? The experience and individuals you meet are steeped in a culture of giving and doing."
— Elizabeth Borges, owner, The Mill and Kiln in Kewaskum, Wisconsin. Served as 2017-2018 AmeriCorps VISTA with Habitat Wisconsin.
Q: What is one lesson from your service that has stayed with you? 
"It taught me to never underestimate the influence one person or a group of people can have on the lives of others."
— Dana Rosenberg, bilingual school counselor, D.C. Public Schools. Served as 2009-2010 AmeriCorps State/National with Habitat Washington, D.C.
"I gained a different perspective to how hard it is to break out of poverty. I learned about the huge economic and educational gap that exists between different races and ethnicities. We don't all start from the same point, and we need to understand each situation before trying to help people tackle obstacles in their lives."
— Kerry Rauschendorfer, structural engineer, Larson Engineering in White Bear Lake, Minnesota. Served as 2003-2004 AmeriCorps VISTA with Habitat Philadelphia.
"It's all about the people. The families you're serving, fellow AmeriCorps, staff role models, generous volunteers. It's the people who matter."
— Nicole StanekScott, director of engagement, Habitat Metro Denver. Served as 2009-2010 AmeriCorps State/National with Habitat St. Tammany West, 2010-2011 AmeriCorps VISTA with Habitat St. Vrain Valley.
"I entered AmeriCorps as a retiree, and my experience broadened me in so many ways as an older adult. Even though I had been a teacher and a school administrative assistant for 25 years, I feared talking in front of a large groups — something that, in my VISTA position, I had to do very often. I was always able to speak from the heart about what the Habitat experience had meant to me, and, when I did that, the talking didn't seem so bad after all. I also found it's never too late to learn how to install windows. I served two years with AmeriCorps and the experience was one of the highlights of my life."
— Susan Remington, retired teacher and school administrator. Served as 2011-2013 AmeriCorps VISTA with Southwest Volusia Habitat.
Ready to be part of the change? Join Habitat AmeriCorps to make a lasting difference in the lives of families and communities across the country.