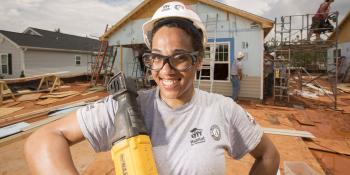 Habitat AmeriCorps profile: Vanessa Dingee
Like many young adults, Vanessa Dingee was struggling to find meaningful, full-time work. But a chance visit to a Habitat for Humanity open house in upstate New York marked a turning point in her search and her future.
After relocating from Brooklyn to Albany with her son in 2009, Dingee was ready for a fresh start. She tried out a few different jobs and eventually enrolled in a nonprofit that helps young people finish their education while gaining hands-on trade experience. As a part of the applied learning program, she spent her days between classrooms and construction sites.
In both settings, Dingee learned more than just the curriculum. She trained to become a leader.
By the time she graduated from the program, she not only had become an effective community builder but also had earned her GED. And she was certified by the Occupational Safety and Health Administration, Leadership in Energy and Environmental Design, and the National Center for Construction Education and Research.
Even with all that, finding work in the construction field was difficult. It wasn't until Dingee came across the open house put on by New York's Habitat Capital District that things began to shift. She learned about Habitat's relationship with the AmeriCorps program and, soon after, was hired through the program as a construction crew leader.
"The people I work beside every day are encouraging. They empower me to meet the goals of the day."
— Vanessa Dingee, Habitat AmeriCorps member
Dingee is accustomed to working directly with Habitat volunteers and homeowners building and renovating houses. Asked to describe her days, she quickly replies, "Busy!" She lists all the tasks — from painting trim to installing closet doors — that she and a team of volunteers have accomplished in a week's time to ensure the house that they are working on is ready for its new owners and their shot at a better future. "It's the best feeling at the end of the day, to know that I'm a part of that," Dingee says.
In 2018, Dingee participated in Habitat's AmeriCorps Build-a-Thon, putting her construction skills to use alongside some of her fellow AmeriCorps members. More than 350 AmeriCorps and 75 alumni gathered in Raleigh, North Carolina, to work alongside future homeowners to help construct 12 new houses and work on 10 home preservation projects.
No two days on the build site are the same, and Dingee wouldn't have it any other way. "Everything is a learning experience. The people I work beside every day are encouraging and believe that I can do something even when I don't feel like I can," she says. "They empower me to meet the goals of the day."
Dingee hopes that she is setting an example for her 10-year-old son, Christian. He recently accompanied her to a Habitat house dedication ceremony. He helped sweep the floor to get the home ready for its new inhabitants. When Christian is old enough, Dingee hopes that she can encourage him to join AmeriCorps and flourish in all the ways that she has.
"AmeriCorps is a great journey," she says. "It's growth."