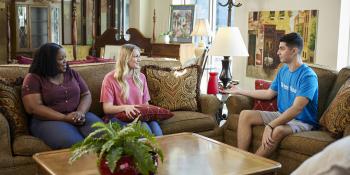 Habitat for Humanity ReStore FAQ
Habitat ReStores play an important role in supporting Habitat for Humanity's mission. Find out what exactly a Habitat ReStore is, how you can get involved and more.
Where can I find a Habitat ReStore?
The most common answer people want to know is where is the closest Habitat for Humanity ReStore? To find the location and contact information for your nearest Habitat ReStore, enter your zip code in the search box.
Read the answers to some of our other most frequent questions regarding Habitat ReStores below.
Frequently asked questions
Habitat ReStores are nonprofit home improvement stores and donation centers. The stores are open to the public and the items they sell are similar to what you may find in other home goods stores, such as a brand-new box of tile you've been needing for your bathroom project or a vintage treasure you won't find anywhere else. However, Habitat ReStores are more than just resell stores.

The purpose of Habitat ReStores is to contribute to the work of Habitat for Humanity. When you support your local Habitat ReStore by shopping, donating or volunteering, you are helping families build or repair affordable homes in your community.

Note: Habitat ReStores are called Habitat Stores in Washington State.
Habitat ReStores tend to resemble home improvement stores — very unique home improvement stores where shoppers have the opportunity to purchase items at less than retail prices.

At the majority of Habitat ReStores you'll find items that fit into the following categories: furniture, appliances, cabinets, home goods and building materials. Items can range from brand new to gently used, and there will likely be a wide range of brands and styles.

Of course, that's not all you'll find.

Because the inventory of each Habitat ReStore draws heavily from donations, you never know exactly what you'll find. We recommend heading to your local Habitat ReStore today to see what's in stock! Of course, you may want to go back next week, too, to see what new items have arrived.

Learn more on our Habitat ReStore shop page.
Habitat ReStores tend to accept both new and gently used household items and building materials, which can include a wide variety of products. Habitat ReStore donations come from all kinds of sources — from your neighbor after a finished home project to a restaurant with used furniture after a remodel.

The items accepted at any given Habitat ReStore can vary for many reasons, including local donation acceptance criteria, store size and the inventory of certain items the store already has in stock. Items must be in good, reusable, resellable condition, with no broken or missing parts or pieces.

However, most stores are often on the lookout for the following specific items:

Household items

Furniture
Appliances
Kitchen and bathroom cabinets
Lighting

Building materials

Doors and windows
Plumbing supplies
Hand and power tools
Flooring

This is not an exhaustive list, but if you are thinking about donating it is a good start to let you know what kind of items Habitat ReStores tend to accept. Learn more at the Habitat ReStore donation page.
Yes! All Habitat ReStores are open to the public. Stop by during business hours to see what kind of deals you can find, as well as to drop off your own donations.
Habitat ReStores help fund Habitat for Humanity's vision of a world where everyone has a decent place to live. Profits from Habitat ReStores are put to use both in your local community and around the world.
When gently used building materials or household products are donated to Habitat ReStore and then sold at a discount to a community member who needs it, those items are recycled and kept out of the landfill.
In all kinds of ways!

When you shop or donate at a Habitat ReStore, you are automatically supporting not only your local store, but also the Habitat mission worldwide. Additionally, Habitat ReStores are always looking for volunteers. Volunteer duties can range from receiving donations, stocking store shelves, sorting materials, merchandising and pricing inventory.

Just as the inventory of every Habitat ReStore is different, so are the volunteer needs. Check with your local Habitat ReStore to see what opportunities they have available.
Though you'll often find new or nearly new items that are ready to use as soon as you get them home, many crafters and treasure hunters also scour Habitat ReStores for items that will be part of their next DIY or upcycle project.

Check out the articles below to see just a few examples of Habitat ReStore DIY projects and get inspiration for your next project!
DIY tip #33
Search secondhand stores — like Habitat for Humanity ReStore — before going to a regular retailer. Many of these types of stores sell new items that people just never opened.
Enter your email to get our guide with over 150 tips from homeowners like you!