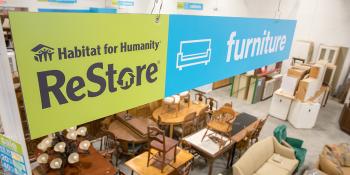 Habitat for Humanity ReStore FAQ
Support Habitat's mission by shopping, donating or volunteering at your local ReStore.
What does a Habitat for Humanity ReStore sell?
Habitat ReStores tend to resemble a home improvement store — a very unique home improvement store.
At the majority of ReStores you'll find items that fit into the following categories: building materials, appliances and furniture. The items you'll find will range from brand new to gently used, and there will likely be a wide range of brands and styles.
Of course, that's not all you'll find.
Because the inventory of each ReStore depends on donations, you never know exactly what you'll find. We recommend heading to your local Restore today to see what's in stock! (Of course, you may want to go back next week, too, to see what new items have arrived).
Learn more on our Habitat ReStore shop page.
What donations does Habitat ReStore accept?
Habitat ReStores tend to accept household items or building materials, which can include a wide variety of products. ReStore donations come from all kinds of sources — from your neighbor after a finished home project to a large restaurant chain with old furniture after remodeling.
The items accepted at any given ReStore can vary for many reasons, including local requirements, store size and the amount of certain items the store already has in stock.
However, most stores are often on the lookout for the following specific items:
Household items
Furniture
Appliances
TVs
Lighting
Building materials
Doors and windows
Plumbing supplies
Hand and power tools
Flooring
This is not an exhaustive list, but it is a good start to let you know what kind of items ReStores accept if you are thinking about donating. Learn more at the Habitat ReStore donation page.
Do you offer furniture donation pickup? What about appliances?
Many Habitat ReStores do offer pickup services for many items. However, since every location is different, you'll want to get in touch with your local store to make sure they offer the service and currently are accepting the item or items you have available.
Find out more about this process in our article, "Does Habitat ReStore offer furniture donation pickup?"
Are Habitat ReStores open to the public?
Yes! All Habitat ReStores are open to the public. Stop by during business hours to see what kind of deals you can find, as well as to drop off your own donations.
How do ReStores support Habitat for Humanity?
Habitat ReStores help fund Habitat for Humanity's mission to end substandard housing by building strength, stability and self-reliance through shelter. Profits from Habitat ReStores are put to use both in your local community and around the world.
Do Habitat ReStores offer building deconstruction services?
Some Habitat ReStores offer building deconstruction services. For an example of how Habitat ReStores get involved with deconstruction, you can read how Habitat ReStores in Milwaukee build community with deconstruction services.
Contact your local ReStore to ask about deconstruction services.
How do Habitat ReStores help the environment?
When a gently used building material or household product is donated to Habitat ReStore and then sold at a discount to a community member that needs it, that item is recycled and kept out of the landfill.
How can I support Habitat ReStore?
In all kinds of ways!
When you shop or donate at a ReStore, you are automatically supporting not only your local store, but also the Habitat mission worldwide. Additionally, ReStores are always looking for volunteers. Volunteers can range from cashiers and customer service to interior decorators and baristas.
Just like the inventory of every ReStore is different, so are the volunteer needs. Check with your local ReStore to see what opportunities they have available.
What are some examples of DIY projects made from items from Habitat ReStores?
Though at most stores you'll often find new or nearly new items that are ready to use as soon as you get it home, many also scour Habitat ReStores for items that will be part of their next DIY or upcycle project.
Check out the articles below to see just a few examples of Habitat ReStore DIY projects and get inspiration for your next project!
DIY tip #33
Search secondhand stores -- like Habitat for Humanity ReStore! -- before going to a regular retailer. Many of these types of stores sell new items that people just never opened.
Enter your email to get our guide with over 150 tips from homeowners like you!