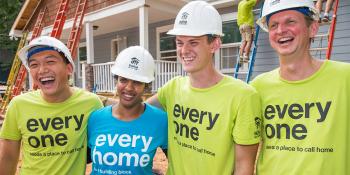 Group volunteer opportunities
You never know who you will end up working beside on a Habitat for Humanity build site.
Our goal is the same: a world where everyone has a decent place to live. But volunteers come from all over, with many different motivations for building alongside future homeowners.
That group over there? They could be from a local business, out of the office and working for a good cause. That one? They could be from a local church or synagogue. That man working on the wiring? He might be looking to add volunteers to his team. The gentleman there? He might be celebrating his birthday.
Volunteers each have their own story. Here is a just a glimpse of some of the people you might find when you build with Habitat.
'We call ourselves the E-Team'
Bob Stimmel didn't know with whom he would be working when he started volunteering with Habitat. Sixteen years later, he knows that when he shows up, he'll see familiar faces.
Over the years, Bob has become part of a group of four volunteers who complete electrical work on Habitat Fresno homes in California.
"The four of us have kind of become a core," Bob says. "We call ourselves the E-Team."
The team — Stimmel, Tom Flanigan, Jan Skopal and Jose Oliveras — came together over the years. And though they all came from varied backgrounds, you can find them together on a build site every Saturday.
While some volunteers may work on multiple facets of the building process, Bob says he specializes in the electrical work on build sites.
A semi-retired contractor, he designs and draws out the electrical plans for the homes. Volunteers are able to take those plans and complete the work, he says.
"You give them some training and keep supervising them," he says. "Volunteers can do it. Once you've been out one Saturday or two Saturdays, the training isn't as necessary."
As evidence, Bob shares a story about a recent visit to a build site by an inspector checking the electrical work on a home. "He was so impressed he called his office to have all the inspectors look at the quality of the work," Bob says.
The work was done by volunteers.
'People who work together'
Habitat volunteers can work with a wide variety of donated items. Our partners donate all kinds of tools and materials. But many businesses and their employees also give their time.
Since 1999, employees from Baillie Lumber Co., an international hardwood lumber supplier based in Hamburg, New York, have provided a steady source of enthusiastic volunteers who give their time to help build homes with Habitat Buffalo.
"I think it's a great thing for our employees and the community," says Jamie Rotella, a Baillie employee who helps coordinate the volunteers, up to 40-50 each year.
"It's nice team-building for some of the people who go together," she says. "I schedule them from different departments. So there's people who work together who normally wouldn't work together on a daily basis," she says. Spouses, parents and other family members of Baillie employees sometimes join in, too.
Both Jamie and fellow employee Jill Meyer have volunteered on Habitat builds. Jill says she enjoys the variety of the work. "My sister came me with one year, so that's kind of fun to be able to do that with a family member."
Jamie, whose father has joined her a few years in a row, says Baillie employees can keep up with the work on the build sites even when they aren't there that week. "We ask volunteers to take pictures while they're there. I ask them to give me a little summary every week when they come back to say, 'I worked on siding, or I worked on drywall.' We post little collages in the office."
Jill says her colleagues give positive feedback about volunteering with Habitat — and they receive it, too. "People really like working with our employees," she says. "Because they are hard-working, and they want to work. Things get accomplished the day they are there."
'Part of the ethic'
Volunteers with Habitat Dane County in Wisconsin may find themselves building alongside members of various faith institutions.
Ron Konkol, a longtime member of Christ Presbyterian, says the first house his church worked on was in 1990. Church leaders work to gather volunteers, and groups within the church, such as choir members or office staff, sometimes gather to work together.
"We've had a lot of people step up. It's just part of the ethic of the church," Ron says. "Everybody brings different skills and abilities, and we need them all.
Rabbi Jonathan Biatch of Temple Beth El also has helped build.
"Basically, it was me reaching out to my colleagues and saying, 'Hey, let's try this. Let's get together,'" he says. His group consisted of two rabbis and two or three ministers, he says, putting up insulation and joist supports.
It was the first time he had used a table saw, but not his first time working with Habitat. He built in Glendale, California, before moving to Wisconsin. Before his day building with fellow clergy, Temple Beth El had gathered members of the congregation to work on a site for a day a few years ago.
'Bonding time'
Emily Baker and her father, Bill Baker, built together with Habitat Greater Charlottesville to mark a special day.
"As a birthday present, I suggested volunteering for the day with Habitat," Emily says. "I wanted to spend his special day with him doing an activity I thought he would enjoy."
Though it was her father's first time working with Habitat, Emily has volunteered for years. She started while an architecture student at the University of Virginia. With her field of study, she says volunteering with Habitat "made quite a bit of sense to me."
"I really just fell in love with the organization as I learned more about it. The structure, the mission of it, the people I meet on the site," Emily says.
Emily, who is currently pursuing a master's degree, says she enjoyed getting to share her knowledge and passion for architecture with her father, as they worked side by side on the framing and flooring of a home.
"For me, it was really rewarding. I had the opportunity in small ways that day to share with him things I've learned through school or work," she says. "There was a lot of bonding time, and it was really rewarding to see the progress of what we accomplished from the beginning to the end of the day.
According to Emily, Bill Baker has since volunteered with another local Habitat since their day together on a build site.
"No matter what task you do, you leave the site feeling good," she says.
Subscribe to our monthly newsletter
Get the latest Habitat news, volunteer opportunities, DIY tips and more ways to get involved.