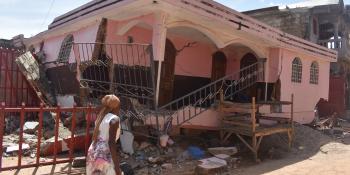 Habitat Haiti is readying response to earthquake
Sitting in a makeshift office off the main road, four days after a massive earthquake hit, Beaumont Mayor Marcel Fortuné tells a Habitat for Humanity Haiti disaster response team that he is still coming to grips with how much the city has lost. And how much work lies ahead in rebuilding.
The death toll in Haiti stood at more than 1,900 as he spoke, including 45 residents of Beaumont, and roughly 10,000 injured — all figures expected to rise as search and rescue crews reach more areas. At least 61,000 homes have been destroyed across the region, and another 76,000 severely damaged.
According to rapid assessments conducted by Habitat Haiti and other organizations in partnership with the Haitian government, the earthquake destroyed nearly 1,400 homes in Beaumont alone. All of the municipal buildings serving the city of 50,000, from the courthouse to the administrative offices, collapsed.
"We're lucky this happened on a Saturday morning, when no one was in the building," Fortuné says of the earthquake that started shaking the mountainous terrain on Aug. 14, 2021. "If not, we likely would have lost many of our staff members."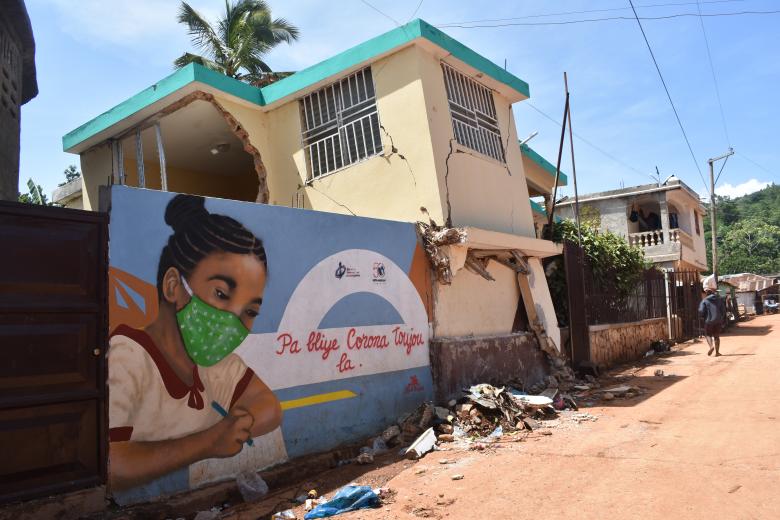 While Habitat has yet to complete detailed assessments of all of the more than 1,800 homes we built or improved in partnership with families here after Hurricane Matthew's devastation in 2016, early assessments indicate that roughly 98% of them are safe after the earthquake, free of any significant damage. This includes 15 new homes designed for elderly residents in Beaumont and funded by Maryland's Habitat Choptank and 300 homes built in partnership with the International Organization for Migration, with funding from the European Civil Protection and Humanitarian Aid Operations, or ECHO.
Habitat readies response
Now Habitat is preparing for another long-term disaster response in the peninsula, using our Pathways to Permanence (PDF) approach as well as our strong relationships with local communities, the government and international partners. We plan to start by distributing emergency shelter and water, sanitation and hygiene, or WASH, kits. Then we will work with the government on assessments to help families determine if their home is safe to inhabit again or needs to be repaired or demolished. Our strategy includes working with families on transitional shelter solutions and WASH needs then focus on building and repairs that make homes more disaster resilient.
As in previous responses to hurricanes and earthquakes in Haiti, we will offer our technical expertise in housing to other organizations, seeking alliances with organizations that specialize in other areas of recovery so together we provide holistic support to the most vulnerable communities. Habitat is part of the regional coordination platform for disaster preparedness and response in Latin America and the Caribbean, known as OCHA-REDLAC, allowing us to coordinate with other organizations early in the recovery phase.
As we begin, our focus with partners and families Habitat is mapping out the size of the challenges ahead. Landslides have made some areas impossible to reach by road; these areas are only accessible by motorcycle, horseback or hikes through rugged terrain and across rivers. Heavy rains from Tropical Depression Grace, which swept through three days after the earthquake, have only made conditions more difficult. All this amid ongoing gang violence, the COVID-19 pandemic and lack of land tenure security for many. Even residents whose families and homes survived physically unscathed are dealing with another challenge: trauma and emotional scars.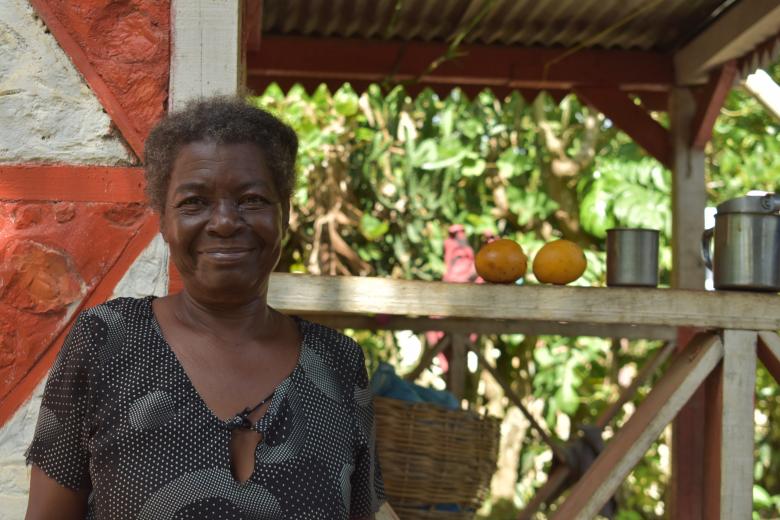 Oxelia, like most residents in the nearby town of Corail, was at home when the earthquake hit. "We screamed and ran outside into the street," she says. "The house shook like crazy for so long, my neighbors also ran out into the street. My daughter was still asleep, and it shook her awake before she grabbed her baby and ran into the street as well." 
Oxelia's home, which was built by Habitat, suffered no significant damage. But many of her neighbor's homes caved in or experienced severe structural cracking. Made of low-quality materials and lacking structural reinforcement, they were extremely vulnerable to the violent shaking of the earth. Some completely crumbled to the ground in a heap of dust.
That's why Oxelia was among the many who slept in tents or under tarps outside in days after the earthquake. "We were all too afraid to go back into the house because you could still feel aftershocks," she says. "But now it has been days, and I see that my neighbors' houses have a lot of cracks, but mine is fine."  
Sleeping in tents, surveying homes
Habitat Haiti staff members in the region have been deeply impacted by the earthquake themselves. Jean Myrtho Lafontant, a Habitat field engineer stationed in Les Cayes, has had a fear of earthquakes since surviving the 2010 one that killed roughly 250,000 people in and around Port-au-Prince. He was on the phone in his apartment when he felt the earth begin to shake as it did 11 and a half years earlier. Jean exited through a window and jumped onto a neighboring rooftop, thinking if the building collapsed, he'd be safer on top of it. When the dust settled, he realized that his apartment had broken away from the main building entirely.
Jean and another Habitat field engineer put a tarp over a house that is under construction and slept there for two nights after the earthquake. The third night offered no sleep, as they had to take turns holding onto the tarp as Grace's torrential rains passed. Habitat reinforcements from Port-au-Prince arrived the next day, with hygiene kits, tents, clothes and food.
Now Jean and the other members of the Habitat Haiti team sleep in tents. Then, each morning, they spring into action, fanning out to assess the full extent of damage to homes in the region. They know they are far from alone. Because with Habitat Haiti's nearly four decades of experience in the country and deep connections with local officials, families and organizations, Habitat's every action is done as part of a network. Together, we and our partners are committed to helping the people of Haiti do the incredibly hard work of rebuilding so that they are safer and more secure in their homes the next time disaster strikes.
You can help
Donate to support Habitat's disaster response efforts in Haiti and other communities around the world.