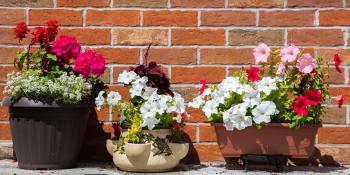 Habitat at the heart of volunteers' love stories
Love at first build site. A rekindled bond after decades apart. A fresh start. In all of these love stories, Habitat has played a special role in bringing couples closer through service.
Jessie and Tim
"Honestly, it was just kind of a divine intervention," Jessie Synan says of meeting her husband, Tim, seven years ago on a Habitat construction site.
At the time, Jessie was a recent college graduate who had moved back into her parents' home in Maryland to bide time while she figured out her next move. At her mom's urging, Jessie picked up some volunteer shifts with Habitat for Humanity of the Chesapeake to shake off the doldrums, make some friends and give her days structure.
It worked. Getting back to Habitat, where she had been active throughout her college career, brought purpose back to Jessie's days — and a newfound, tight-knit community to share it with. "All of the AmeriCorps people with Habitat were amazing," Jessie says. One member in particular stood out.
Tim, who was spending his service year as construction crew leader, "coincidentally" ended up in the same small work group every time Jessie came to the job site in downtown Baltimore. "We had six hours every day to talk as we worked," Jessie recalls.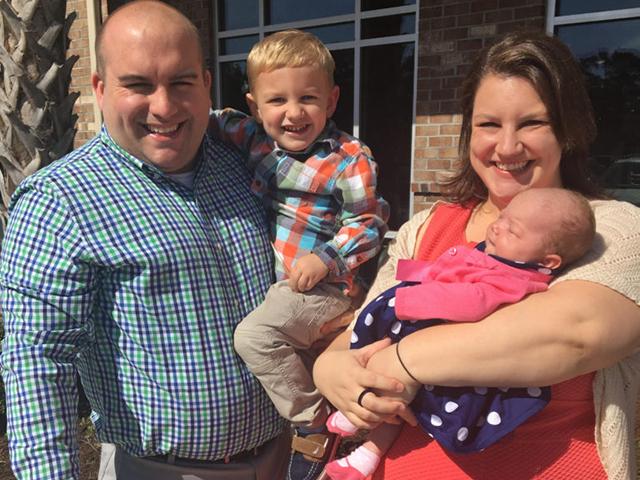 Through their conversations, they connected quickly and easily over their mutual compassion for others and their love for Habitat. Two weeks later, the pair were dating and within a year, engaged.
In the years since, Jessie and Tim have welcomed a son and daughter. When Jessie looks back, their love story still seems incredible. Despite volunteering with Habitat for 11 years, Jessie still considers herself a beginner. "I mean, I am not good at building — at all," she laughs. So it's almost unbelievable that she met her husband while building houses.
"There's no reason why I should be so drawn into Habitat and the act of building — but the fact is that I just hate the idea of people having substandard housing," Jessie shares. "That drew me in. That drew Tim in, too. It really was one of those things that was meant to be."
Mark and Mabel
Mark and Mabel Schwein were high school sweethearts when, seemingly, their love story ended.
After high school, they went their separate ways. Each pursued promising careers — Mark in carpentry, Mabel in real estate. They married other people and started their own families, and both divorced. Then life brought them together again and 35 years later, Mark and Mabel's love story picked up where it left off.
After a short courtship, the two planned to marry and honeymoon in the Florida Keys. But, of course, it wouldn't be true to their journey together if everything had gone according to plan.
In September 2017, Hurricane Irma became the costliest storm in Florida's history. After seeing the extensive devastation on the news from their home in St. Louis, Mark and Mabel doubled down on their wedding plans and added a few new activities to the schedule: debris removal, post-storm cleanup, restoring homes and hope.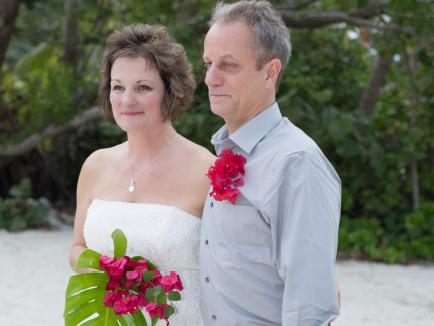 Four months after the storm, the couple made the trek south and were taken aback by how much work was left to do. "The debris piles on the side of the road were 20-to-30 feet tall," Mabel says. "Everything — all of people's belongings, their lives — just dumped on the shoulders of the road."
For Mark and Mabel, who both have made careers of helping people buy and build homes, the work with Habitat is personal. So the pair got busy, spending the days after their wedding tearing down crumbling walls, staircases and floors and rebuilding new ones alongside other Habitat volunteers and staff – and they wouldn't have had it any other way.
"Knowing the good work that Habitat does, there was just no doubt that we would do whatever we could to support their effort. And it was such a blessing to have found each other after all this time," Mabel says as her voice fills with emotion, "and be able to do this together."
Sonya and Ethan
When Sonya Wirtanen and Ethan Bigelow became foster parents three years ago, they were ready for a life of diapers and playdates. But life threw them a difficult curveball when two years later the baby was reunified with his biological dad. "We wanted to step away from it all and give ourselves a year to do something extremely different from raising a child," Sonya says.
She and Ethan, still feeling their loss, left the comfort of their home, the security of their jobs and the proximity of their families in Massachusetts and flew to Hawaii's big island. There they joined Habitat AmeriCorps where, for 12 months, the two lived on a small monthly stipend in return for lifting up the mission of Habitat Hawaii Island and the local communities it serves.
Ethan, a carpenter by trade, came on as Habitat Hawaii's construction crew leader and Sonya, a nonprofit professional, lent her skills as volunteer and community outreach coordinator. By day, they worked together helping families in Hawaii achieve their dream of homeownership. At night, they retired to the modest apartment they shared — a space they had traded in their own home for.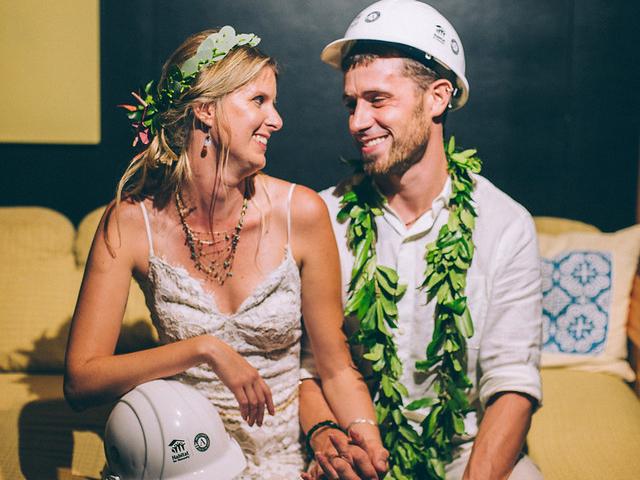 Three months into the couple's service year, Kīlauea erupted, with the volcano spewing ash into the air and spilling lava into the land and waters. Sonya and Ethan's work shifted into disaster recovery mode, focusing on critical repairs to help families get back home. As the work intensified, they were amazed by the support of the community.
Sonya recalls one volunteer who built side-by-side with them. As they were closing up the job site after a long day, Sonya asked the volunteer where he lived. "It was only then that he told us he was living in his truck because he had lost his house and was no longer able to work as a farmer because he had lost all his land," she says. "Yet, here he was, swinging hammers for someone else all because he felt like he had to do something to help."
Time and time again, the volunteers proved to be the most impactful part of Sonya and Ethan's service year. They got to know volunteers from both in the neighborhood and around the country, learning their stories and finding commonality in their struggles. No matter the different journeys, each had traveled to get to this moment on this build site in the middle of Hawaii. Here they all were, Sonya and Ethan included, finding solace and a deeper sense of self in the service of others.
"Finding this way to give back, to allow ourselves time to heal and grow," Sonya says, "was the best thing we ever could have done."