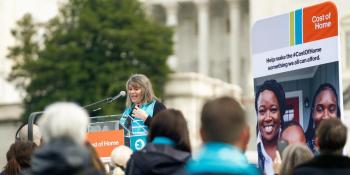 Habitat homeowner reflects on the current state of housing advocacy
Five of our seven family members are considered essential workers.
I provide administrative support to the Center for Pediatric Obesity Medicine at the University of Minnesota. My husband, Jacques, works at the Minnesota Veteran's Home. My oldest son does research at the University of Minnesota. My youngest son works in environmental services for a hospital. Another son works nights, and often overtime, at a grocery store.
Every day we leave the safety and comfort our home to support and care for the people in our community. Whenever one of us heads out, our family is reassured that our home will be here for us to return to. It saddens me that every family doesn't have the same security a home provides and that the pandemic is making the housing problem that has existed for decades much, much worse. I know that struggle personally because, like so many other lower paid essential workers today, I once lived it. Difficult does not begin to describe what housing instability feels like.
In 1995, my husband and I were barely getting by on one income. We lived in a small, one-bedroom apartment. We had a toddler in tow and a baby on the way. At the time, my husband worked as a nursing assistant making $7 an hour while I stayed at home to care for our little one since childcare was beyond our budget. Living paycheck to paycheck, coupled with the threat of ever-increasing rent, exacerbated our struggle. Remembering what it was like to live under that constant stress back then, I can only imagine what a family in our position then would be facing today.
Thankfully, we found a solution: Habitat for Humanity. Habitat's homeownership program forever changed our lives. Knowing that we would have the stability of an affordable monthly mortgage payment, that we wouldn't have to move anymore and that we had enough space to eventually house five children lifted a huge weight off our shoulders. The affordability of our home gave us a life full of possibility — allowing me to go back to school, my husband to maintain a stable career, my children to pursue their passions. It gave each of us a future.
Today, however, the future is uncertain due to COVID-19. Since April, millions have lost their jobs — forcing them to choose between paying their rent or mortgage and keeping the lights on, buying food and other basic necessities. When faced with the need to decide between covering the cost of home and life's other essentials, you can't win. And now, another month of late bills, missed payments and impossible decisions is fast approaching for too many.
As we shelter in place and practice social distancing, there are thousands of people for whom this isn't as straightforward as it sounds. The uncertainty so many of us feel today, they have felt for a lifetime — if not generations. Additionally, the tragic killing of George Floyd in Minneapolis has placed a spotlight on the inequities that have resulted from systemic and persistent racism, inequities that have kept people of color from achieving economic stability across generations. The pandemic and Floyd's untimely death have challenged us all to recognize, acknowledge and change the ways our communities serve – or fail to serve – everyone, including our historically unequal access to health care and homeownership.
Affordable housing and homeownership happened for me and my family 25 years ago, and I have been an advocate for Habitat and for home affordability in Minnesota ever since. I tell my story because I know our family is not unique. There are hundreds of thousands of families living paycheck-to-paycheck who struggle to find and keep a stable place to live. Through advocacy, we can help raise awareness of this struggle, and through policy, we can help make systemic changes to help them thrive.
Earlier this year, I traveled to Washington, D.C. to join Habitat's national Cost of Home campaign in sharing our message about the need for home affordability on a national level in the U.S. The Coronavirus Aid, Relief, and Economic Security Act — or CARES Act — passed by Congress and signed into law on March 27 included some measures to provide economic relief for families and businesses, but it must go further. There is still much more to be done to ensure that families have stable, affordable places to call home and that nonprofits, like Habitat, have the support and stability they need to continue serving others in this time of crisis.
Everyone needs and deserves a decent place to call home. Now more than ever, we need to tear down walls of disparity and discrimination and replace them with equality, inclusiveness and understanding. It is up to all of us to forge a path that will allow us to rebuild smarter and better. We can and we will get through this — together. Take action with us today!