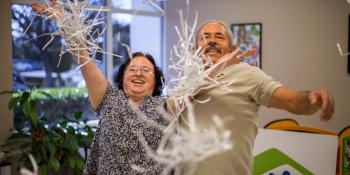 Habitat homeowners celebrate their final payment
If you ask Irma where her heart resides, she gives her address.
Her home is her heart, says Irma, a Habitat Collier County homeowner. It is the home where she and her husband, Silverio, raised their two sons. And it is now the home that is all theirs. After 19 years, the couple recently made their final payment and celebrated by shredding the mortgage.
"It's very exciting," Irma says. "It's beautiful knowing that you have your own house, that you don't have any payments."
Silverio, who works for an air-conditioning company, is semi-retired while Irma manages a small cleaning service. As they near retirement, the couple has one less bill to worry about. "Now we can save that money," she says.
Before partnering with Habitat, Irma, Silverio and their children, Efrain and Edgar, struggled with finding a decent place to live. They crowded in with relatives, each time sharing a small bedroom. "I remember my husband and I slept on the floor and my kids in the bed," Irma says.
The family changed their future after partnering with Habitat. Irma still remembers doing sweat equity and working alongside volunteers. She had a clear idea about what she wanted to do — she wanted to work on her roof. "I knew I could do it. I could go up on the roof," she says. "I feel proud of it."
Irma's older son, Efrain, remembers that first night in their house. "I was so excited, so excited to finally have a room of my own and knowing we were not going to move anymore," he says.
His new home came with a nice, big yard. "My brother and I could run around and play soccer," Efrain says. "It was my own personal little soccer field."
Efrain now has a home of his own, inspired by the pride and hard work his parents put into their house. He still brings his son over to play soccer in the same yard he played in as a child. Meanwhile, Irma tends to her plants and watches her grandson score goals at the house that now belongs to her.
"I don't think I will find the words to express how happy I am to have my own house and how happy I am that we met Habitat for Humanity," Irma says, "and how happy we are that we finished paying our mortgage."
Subscribe to our monthly newsletter
Get the latest Habitat news, volunteer opportunities, DIY tips and more ways to get involved.