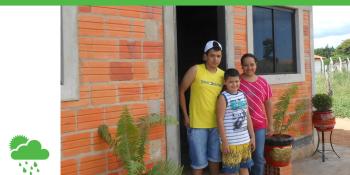 In a Habitat house, safe from the storms
Last March, Alicia Casco and her family went to visit Alicia's grandmother. But this was not a joyous occasion: Heavy thunderstorms had struck the Paraguayan city of Luque, and her grandmother's house was covered in mud.
"We had a heavy storm on Friday, and the house we used to share with my grandmother became flooded," Alicia says. "So Saturday and Sunday, we went back to her place to help recover her things and clean up. Everything was covered with a dense mud, very difficult to wash it off."
And Alicia should know.
Alicia, her husband Eusebio, and their sons, 10-year-old Luis Fernando and 16-year-old Junior, had once occupied one bedroom in that same house. They knew all too well the fear that came every time heavy raindrops began to fall.
"It was a difficult situation. The house got flooded constantly, and we lost everything: appliances, furniture, clothes. The water and the mud got up to our knees, and there was nothing we could do about it," Alicia says. "My boys often got sick, especially the youngest."
Eventually, Alicia took advice from her children's godparents and contacted Habitat Paraguay. Her shyness evaporates when asked about the change in her family's life since that day.
"We have been going through an amazing experience," she says. "The four of us had never lived by ourselves, and we are enjoying it so much.
"It gives me such peace of mind to know that it can rain and we will be safe in our house, thank God," she adds. "Our next step is to help my grandmother improve her living conditions, so she doesn't fear storms anymore."
Subscribe to our monthly newsletter
Get the latest Habitat news, volunteer opportunities, DIY tips and more ways to get involved.