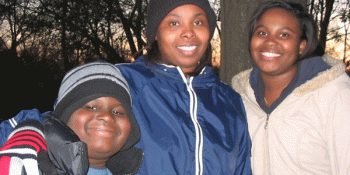 Habitat houses create secure spaces
Before moving into their Habitat York County home in 2005, Shenita Hart and her two children weren't safe inside or outside the walls of their apartment.
Inside, where they should have felt safe and secure, the family lived with mildew on the windowsills and in the bottom of the cabinets. "I was in the end apartment, so when the drainage stopped up, I had water down the hallway. They had to replace the carpet several times," Hart remembers. The walls themselves were cracking and pulling apart in the corners due to all of the moisture.
Outside those walls, drug dealers and their customers made Hart wary of letting her kids out of her sight. "They couldn't go out by themselves," she says. "The only time they went out, I was with them."
For the Harts, a Habitat home represented a new sense of safety — and freedom. "We have a yard so my son was able to go out and throw around the football," says Hart. "My daughter actually started wanting to have more people over because the house was in a better living condition."
Now, Hart knows she'll never have to worry so much about her walls.
"I just thank God that he gave me the opportunity," she says. "I was paying a lot of rent before. Now, I put my money into my house. I can look and say, 'This is where this went. This went into my home.' It makes a difference."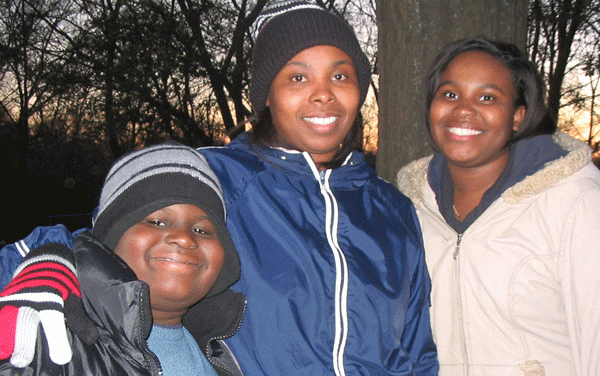 Home of Hope
Habitat MidOhio and its partners blitz-built a house in five days for Christine Travis and her nieces, Destiny and Alicia. The house, dubbed the Home of Hope went from foundation to finished in just 106 hours. The Travis family — with the help of more than 400 volunteers and staff — put more than just love, sweat and tears into the walls. They also used:
430 wood studs
200 pounds of nails
130 sheets of drywall
2,400 square feet of siding
Walls of protection
When Twin Cities' Habitat volunteer Pastor John Keller was invited to lead a short devotion on the build site, he centered it on the book of Nehemiah and the rebuilding of the walls of Jerusalem. "For people of that time, a walled city was a sign of protection and vitality," he says. "We no longer need city walls for safety, but we still need to rebuild walls of shelter for others in our city." Read his entire blog post.
Subscribe to our monthly newsletter
Get the latest Habitat news, volunteer opportunities, DIY tips and more ways to get involved.