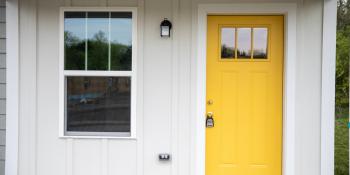 Habitat houses foster optimism and confidence
Amanda's family moved into their Wiregrass Habitat home when she was a teenager. They had moved around in the years before, but her mother managed to stay within the same school district, so Amanda and her brother could stay at their schools. Even still, Amanda says "moving into the house made it a little bit easier to just foresee the future and things that I could do.
Being around the Habitat volunteers and staff members who helped build her family's home gave her a new perspective on the possibilities for her future.
"A lot of times people will say, 'I just really want to help people,' and it might not seem like it's a job," she says. "That was kind of an eye-opener that this exists as a job — to help someone — and it definitely aligned with what I want to do now."
Having just earned her master's degree in global sustainability from the University of South Florida, Amanda plans to go abroad to "work on projects that are development projects. That could range from water to even building houses to helping people start businesses." Very simply put, she's planning to make helping people her career.
Amanda has traveled to Turkey as part of a U.S. State Department critical language program and studied with another State Department program in Tanzania. As her final project for completing her master's, she worked in Malawi to help create a comprehensive plan for boosting tourism to the country's national parks.
Though she was naturally inclined to help people, it didn't completely click until her family partnered with Habitat. That partnership helped her understand "that you need to participate, you need to volunteer and be a part of something bigger."
For Amanda, something bigger started with Habitat.
"Being in a house that's permanent — and then on top of that having the experience of actually being out there putting in the blood, the sweat, the tears to help someone else not only build their house, but your house as well — it gives you that determination to say, 'I can go to college, and I can go to Turkey if I want to, I can go to Tanzania if I want to.
"It builds you up to do better things in your life."
Subscribe to our monthly newsletter
Get the latest Habitat news, volunteer opportunities, DIY tips and more ways to get involved.