Habitat houses help families reach their full potential
In 2010, Dina Abarca and her two children lived together in one rented room of a house. Also under that roof were as many as 16 other renters.
"It was hard to put the kids to bed at night because there were so many people in and out at all times," Dina remembers. "There was just so much noise all the time, it was hard for them to concentrate on their homework."
Things were so bad Dina looked into renting a one-bedroom apartment in a worse neighborhood. Fortunately, Habitat Greater San Francisco accepted her application, and she turned her attention to sweat equity instead.
In July 2011, Dina, Derek and Haley moved into their very own home, sharing their roof with no one else. "It's like night and day. My kids have their own bedrooms," Dina says. "It's just been such a turnaround — they can go to sleep in peace, they can wake up in peace."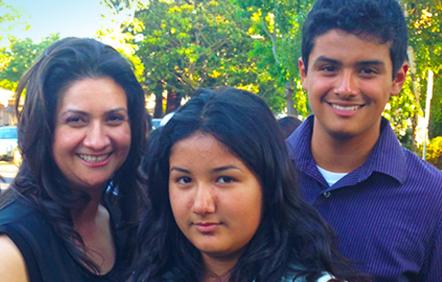 The family's time together has changed dramatically. "I have a little table in the kitchen. They sit there and do their homework and watch me cook dinner. They sit there in the morning, and we talk about school stuff while I'm cooking breakfast."
The "school stuff" includes an amazing transformation for the Abarca children.
"Their grades went up. My son was diagnosed with ADD in first grade. In the first year we were in our house, he went from C's and D's to A's and B's," Dina shares, adding that he made the honor roll for the very first time. His sister Haley has seen similar success.
Dina has recognized changes in herself as well, transforming from what she calls an angry, frustrated person who felt like "a little girl who didn't know where to go" to a confident and joyful woman. "It's completely changed my life inside out," she says.
She fondly recalls an afternoon when she realized her kids were being a little too quiet. She found them in the backyard with two cans of leftover paint.
"They went ahead and opened them — they didn't even ask — and they started painting the wall. And they left their hand prints, and they were doing faces, and they were doing hearts," she says. "I just stood there and watched them have so much fun without being afraid or thinking, 'What if somebody says we can't do this?'
"It's still there. The painting is just a reminder that now the kids can be kids."
Subscribe to our monthly newsletter
Get the latest Habitat news, volunteer opportunities, DIY tips and more ways to get involved.