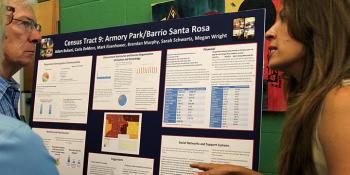 Habitat Tucson: Understanding the community
The 2015 Tucson Well-being Survey, a collaboration between the University of Arizona and Habitat Tucson, examines the challenges faced by lower-income families in Arizona's second-largest city.
Habitat funding allowed university students — under the direction of sociology professor Brian Mayer — to gather data on housing, family structure, income, and disability from 257 households, creating "an important snapshot of our community," says Habitat Tucson CEO T. VanHook.
Among the report's findings:
Almost half of Tucson's low-income households spend more than 30 percent of their income on housing. "When asked to prioritize their expenses, rent was consistently the item households worried about the most," Mayer says. A family spending more than 30 percent of their income on housing is considered cost burdened. Practically, Mayer says, that means "there is less money to spend on other essential items."
More than a third of Tucson families in poverty report skipping meals. The study found a "strong correlation" between income levels and the quality and appearance of homes. "If households are barely able to pay their rents or mortgages," Mayer says, "few funds are left over for maintenance."
Nearly 90 percent of the low-income families surveyed have never sought charitable assistance.
Habitat has pledged three years of support for the survey project, Mayer says. Student researchers will revisit the families surveyed, tracking their progress and documenting any difficulties. "Understanding these challenges is a regional priority for the city and its nonprofit community," Mayer says.
The study was presented in May to the mayor of Tucson and over 100 other city officials and community members.
Subscribe to our monthly newsletter
Get the latest Habitat news, volunteer opportunities, DIY tips and more ways to get involved.