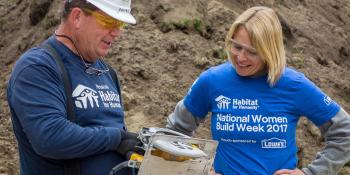 This Habitat volunteer traveled to all 50 states in 2017
Like many new retirees, Darrell Gilmore wanted to travel. But there were no cruises or jet-setting for him — just the opposite.
In January 2017, the former corporate executive and 32-year Habitat volunteer from Bloomington, Indiana, hitched up a camper to his truck with a goal of volunteering with Habitat in all 50 states — in a year's time.
It took some doing, but just before Thanksgiving, Gilmore celebrated number 50 when he helped build a Habitat house in Hobbs, New Mexico. After some reflection, he's ready to share some of what he learned during his nationwide adventure.
1. No matter where you go, Habitat feels like home.
"I think that's because people share Habitat's vision that everyone deserves a decent place to live. That is what makes Habitat volunteers who they are."
2. Habitat homeowners everywhere just want a hand up.
"What I saw was the passion of homeowners who wanted a hand up, not a handout. 
"They realize that, with homeownership, they have an opportunity for a better life — not just for themselves, not even just for their kids, but a better opportunity for every generation that follows."
3. There are many ways to help Habitat families.
"I'm mostly a hands-on, house-building guy, but in Vermont, I helped with a Habitat golf fundraiser. In Texas, I built fancy playhouses for another fundraiser. In a number of states, I built wheelchair ramps. 
"I had never worked in a ReStore before, but I probably spent a quarter of my volunteer hours in ReStores. I was happy to do all of it."
4. Volunteering with Habitat is good for your health.
"My health is a whole lot better. Volunteering with Habitat was a great way to cut stress. 
"If anyone is looking for something to improve their health — I am talking mentally, physically, emotionally, spiritually — I don't think there is a better way than doing work for Habitat. 
"It is a healthy alternative in today's world."
5. Volunteering with Habitat is a great way to see the country and the world.
"I wanted to accomplish three things with my journey: spend a year doing something really significant, play a round of golf in every state and visit unusual tourist attractions.
"My journey was a great excuse to go to Hawaii in the winter and Alaska in August. I also wanted to check out places that I might like to retire to. 
"I had never considered Tyler, Texas, but it is definitely on my final list right now. And St. George, Utah — whoa, is that unbelievably beautiful. 
"Wherever I decide will have a local Habitat where I can volunteer."
6. No matter how much you know, there's always something to learn.
"I learned a lot of new approaches. 
"In Maine, I worked on a house with foot-thick walls to guard against the harsh winters. In the South, I worked on elevated foundations and more hurricane- and tornado-oriented construction methods. 
"Even after 32 years, including one very intense one, I am still learning new things that make me a better Habitat volunteer."
7. The work of helping Habitat families is never done.
"I have already booked five builds with Habitat's RV Care-A-Vanners through April, and I am planning to volunteer at the Jimmy & Rosalynn Carter Work Project this fall in St. Joseph County, Indiana. 
"I also plan to do more volunteering internationally. I have done a Global Village build in Thailand and the Carter Work Project in South Korea. 
"My new goal is to volunteer with Habitat on every continent. I don't know if there is a local Habitat in Antarctica, but if they create one, I will probably go. 
"What I hope more than anything is that my journey this past year brings more volunteers to Habitat. There is no greater way to change people's lives forever — your own included."