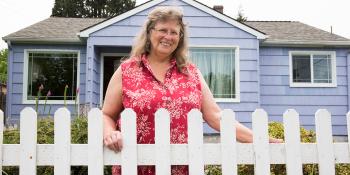 Helping families help themselves
Some of my favorite moments with Habitat homeowners and volunteers are the house dedication ceremonies that I am always so privileged to attend.
I love to build alongside all those who come together to help yet another family achieve affordable homeownership, but the day the house is dedicated is special. It's the day the family receives their keys, and I have witnessed firsthand just how many doors those keys are going to open.
When a family slides that key into the lock of a house they've helped build, they're unlocking more than just the physical front door to their new home. They're unlocking their fullest potential. Newly empowered, confident in their capabilities, with a clearer financial path than they have perhaps ever known, every family that we help is better able to help themselves.
Freed from the worry and stress of unaffordable and unacceptable living conditions, a family can find firmer footing. And where does that path lead? Health. Education. Opportunity. Community.
When you volunteer, donate and advocate with Habitat, these are the doors you help open. Your support has a very direct impact on the lives of families. A single mom in Maine setting an example for her daughter with every hour of sweat equity she performs. A woman in Nashville who knows what it feels like to be safe in her home for the first time. A young family in Colorado whose entire outlook has been changed for the better by their Habitat experience.
What thresholds these families are crossing! What hope lies behind those doors!
I'm reminded of a story that really brings home for me just how much of that kind of hope we build. Imagine being a 16-year-old girl so embarrassed by your family's living conditions that you tell friends you live in another home, one up the street from where you actually live, one with a red front door. Imagine being the mother who has just one request when your Habitat application is approved: a red door just like the home your daughter always wished she lived in. Imagine being that mother and daughter, stepping together through that door, your red door, knowing that now so much more is possible.
Thank you for making sure that more and more families are handed those same keys, keys to finding stability and success.
— Jonathan Reckford, Habitat for Humanity International CEO
Subscribe to our monthly newsletter
Get the latest Habitat news, volunteer opportunities, DIY tips and more ways to get involved.