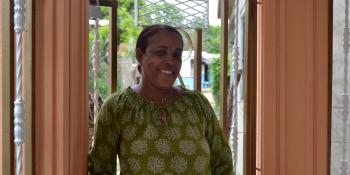 Helping families make vital changes
Miriam lives in the San Pedro de Macorís province of the Dominican Republic with her husband, Carlos, and youngest child, Oscarly.
Like many families around the world, they have improved their home bit by bit over the years as time and resources allowed. "We did what we could," says the 51-year-old.
Dirt floors like the one Miriam had are common throughout extremely low-income communities in Central America. During the dry season, the dust they stir up is a regular respiratory irritant, while the rainy season brings puddles that can become breeding grounds for mosquitos and the diseases they carry. During both seasons, dirt floors, by nature, are impossible to sanitize or clean.
By partnering with Habitat Dominican Republic and working directly with a Habitat engineer, Miriam's family was able to complete several projects — installing a concrete floor and making other improvements to increase her family's safety and security.
"My house is beautiful and safer now," says Miriam, who now plans to add space to set up a business. "This home represents for me the health of my family, and that my son can have a safe and comfortable space for his education."