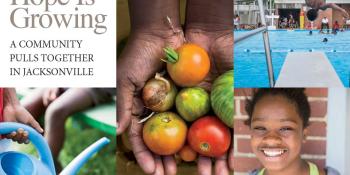 Eleven-year-old Sha'keria Riley did something the other day that once seemed unthinkable. She walked to school.
Just a few years ago, Sha'keria's mom didn't allow her children to go outside, much less out of sight, because of all the drugs and shootings in New Town, their neighborhood in Jacksonville, Florida.
But this is a new day in New Town. Lots of things are happening that once seemed unthinkable in this community of 6,500 families. Since the people who live here and the police officers who work here began trusting one another, crime has gone down — violent crime by 50 percent.
New homes have sprung up as part of Habitat for Humanity of Jacksonville's 16 million campaign to help revitalize New Town. The work reflects Habitat's holistic Neighborhood Revitalization approach that expands the partnership with homeowners to include other residents and organizations for greater impact.
Since 2010, Habitat Jacksonville has repaired 125 houses needing some TLC and built or renovated 90 others for first-time homeowners, including a new green two-story house that Sha'keria eyes on her route to school.
Most evenings, after homework and dinner, she and her family walk to a new park on a spot once occupied by boarded-up houses. The sun-drenched, shade-dappled space is now home to bucket swings and big-kid swings, see-saws and jungle gyms, a short walking trail for grownups, and the unmistakable sound of children playing.
On the way home, they often drop by the new community garden to check on their onions, kale and cabbages. With the nearest grocery store several miles away, the resident-managed garden is a welcome source of fresh produce and a hands-on learning laboratory for kids.
"A lot of people want this neighborhood to be a good place to grow up," Sha'keria says. "It's getting there."
New Hope in New Town 
These changes aren't happening by chance, but by the concerted work of the New Town Success Zone, a collaboration of residents and three dozen public and private organizations that came together in 2008 to make New Town a good place for children to grow up.
The neighborhood kids came up with the name of the collaboration. "It's a good name," Sha'keria says. "Success comes with learning. And we are learning to be successful."
Before that, the words "New Town" and "success" were rarely used in the same sentence. The neighborhood was known for its high rates of infant mortality, teenage pregnancy, high school dropouts and crime. "The only people out in the street were people who sold drugs or people looking for drugs," says Dr. Irvin PeDro Cohen, executive director of the New Town Success Zone. "There was no park, no garden, no hope."
Cohen, who grew up five miles from New Town, also serves as inspirer-in-chief. Sha'keria breaks into a big smile at the mention of his name. "He is always checking my report card, and if I do well, he lets me go to Girls Rock Camp," she says, referring to the weeklong program where girls learn to play instruments, write songs and perform at the city's historic Florida Theatre.
The Success Zone's stated goal is to have every neighborhood child go to college or a trade school or join the military. For reasons symbolic and practical, the collaboration is based at Edward Waters College, which sits in the heart of New Town and is Florida's oldest historically black college. The school, founded in 1866 to educate freed slaves, donated the land for the park.
The dozens of New Town Success Zone partners, including the Jacksonville Sheriff's Office, Boys & Girls Club of Northeast Florida, and the Jacksonville Children's Commission, come from all over the city. Each partner has been asked simply to do what they do best, whether that's making the streets safe, getting a PTA up and running, teaching preschoolers their ABCs, or keeping older kids on track through after-school and summer academic programs.
There's also a program at the college to help high school dropouts get their GEDs. Sha'keria's mom, Shanita Brown, enrolled a year and a half ago. "How could I encourage my kids to stay in school if I didn't lay that foundation myself?" says Brown, who was raised in New Town and dropped out of school in the 11th grade to work as a hotel cook to help her mom pay bills. Brown has struggled financially herself in recent years, trying to raise and house her kids. And she, too, has admired the new Habitat homes going up in her neighborhood.
"If all these changes were going on in New Town when I was growing up, I think I would have been more motivated." In addition to education, health care is a major component of the New Town Success Zone's efforts. Health providers offer prenatal care, back-to-school physicals, parenting classes for new moms and dads, and fitness classes for older caregivers now raising grandchildren.
They also treat many kids with asthma and allergies. More than 6 in 10 children living in New Town have respiratory issues, which can be exacerbated by the neighborhood's proximity to two interstates and by the abundance of homes harboring mold and lead paint.
Homes, Communities and Hope
In 2010 Cohen invited Habitat, which has built some 1,900 homes in neighborhoods all over the city, to join the New Town Success Zone as its housing partner. Habitat's role is not only to improve the houses of longtime New Town residents but to attract new families through the promise of homeownership. "We want New Town to be a place where people want to live," Cohen says. "Not just a place for people who can't get out."
At the time, Habitat Jacksonville was embracing Neighborhood Revitalization, an approach that has been adopted by 230 local Habitat affiliates to date and focuses on changing the trajectory of entire communities. "We decided to focus on this one neighborhood and to align ourselves with other providers for greater impact," says Mary Kay O'Rourke, president and CEO of Habitat Jacksonville. Seated on the front porch of a newly completed home, O'Rourke echoes Habitat's mission "to bring people together to build homes, communities and hope."
The work in New Town is far from complete, but the unthinkable now happens every day. In June, with her kids looking on, Shanita Brown walked across a stage in her cap and gown to receive her GED. Her goals now include college, a job, and a new house. That path, like Sha'keria's walk to school, is now a lot easier to imagine.
About Neighborhood Revitalization
The Neighborhood Revitalization approach began in 2010, inspired by the idea that Habitat for Humanity's homebuilding efforts could have an even greater impact by partnering with residents and other organizations. Each Neighborhood Revitalization project begins with understanding the goals of residents: what they believe will transform their neighborhood and enhance their quality of life. This approach ensures that Habitat's work — from rehabs to playgrounds, from new homes to financial literacy classes — contributes to the fabric of the neighborhood and makes it an inviting place to call home.
No more "us" and "them"
New Town residents and police officers are coming together to make the community a safer place to live and work. "There is trust," says Tony Davis, assistant chief of the Jacksonville Sheriff's Office who oversees the New Town area.
It appears to be working. Violent crime in New Town, including shootings and aggravated batteries, has dropped 50 percent. Burglaries and arrests are way down, too.
Davis, who started his career 30 years ago patrolling these streets, is not surprised that the statistics are heading in the right direction. "When you put together a group like the New Town Success Zone that cares about the neighborhood, that happens," he says.
The Jacksonville Sheriff's Office has been one of the driving forces behind the Success Zone, a collaboration of residents and community partners working since 2008 to revitalize the neighborhood. "People here want it to be a place where they can walk the streets, sit out on their porches and be safe," Davis says. "We want that, too."
The sheriff's office has built a new station at Edward Waters College, which houses the New Town Success Zone, and officers understand that their job is not simply to arrest criminals. They are also expected to attend neighborhood meetings, mentor schoolchildren, check on older residents, and even pitch in to build a greenhouse at the community garden."
The police make it a point to know everyone," says Gary Pierce, a Habitat homeowner who lives across the street from the middle school. "That's why it's getting better here." He points to Officer Shirley Johnson, who has stopped by to see him and his 3-year-old grandson."
At one time, there was an 'us' and 'them' in this community," Davis says. "Now it's just all of us."
Success Garden is 100-by-100 feet of magic
Fruits and vegetables grow like magic — with a lot of hard work — in the black dirt of this once-vacant lot. The bounty includes green beans, collards and corn, along with Red Velvet okra, Sugar Baby watermelon and black raspberries. "Hey, this smells like tea!" says Savannah Brown, 7, taking a whiff of the lime basil.
The garden provides sustenance for New Town, which is miles from the nearest grocery store, and serves as a tangible sign of hope and renewal. "I would never have imagined that this lot would have turned into something so beautiful," says RoToré Powell, who grew up in New Town and helps manage the garden.
Working with the nonprofit Friends of Northeast Florida Community Gardens, residents set out in 2012 to teach their community to grow its own food and eat healthier. As in other poorer neighborhoods where fresh produce is scarce, many residents struggle with diet-related health issues such as obesity, diabetes and high blood pressure.
In 2013, the garden produced 1,000 pounds of fruits and vegetables, a portion of which was donated to the food pantry at the local community center. As the garden matures, the annual harvest is expected to jump to 5,000 pounds. Residents plan to sell some of the produce at local farmers markets so the garden can be self-sustaining.
They're getting stronger every day, both physically and as a community. "You come in this garden and you stand with people who have lived here 30 years that you never knew," Powell says. "Then you see them walking down the street, and you smile and speak."
She spends a lot of time teaching neighborhood kids how to sow seeds, water plants and believe in their own greatness. "Children are seeds," she says. "If we take time with the kids, I feel like this neighborhood could have the next sheriff, the next mayor, the next famous heart surgeon, the next president. The sky is the limit."
— Story by Ann Hardie, photos by Ezra Millstein
Subscribe to our monthly newsletter
Get the latest Habitat news, volunteer opportunities, DIY tips and more ways to get involved.